How to Detect Spyware and Remove It Easily – Step by Step Instructions
Spyware on computing devices is as rampant as sin to humanity. They also come and exist in all forms and functionality or dare we say destruction! While comparing its frequency to sin is a bit of an overstretch, spyware has become extremely common!
Almost any computing device can be compromised by spyware. Spyware has been installed on baby monitors, talking teddy bears, smartwatches, even smart scales! So, learning how to detect spyware is a must in today's digital era.
This is because any form of user data is valuable to malicious people. For example, from a smart scale and its related app, spyware can get all your personal information.
A hacker can use this for identity theft, or to further compromise your security systems. It is therefore important to know how to locate spyware on Android and iOS as well as Windows and Mac OS. Or, your significant other might think that you're being unfaithful, so they tried to get to the truth by installing catch a cheater spyware that tracks all your messages. Either way, no one likes being watched and followed, so we've compiled a guide on how to prevent that.
In this article, we will discuss how to detect and remove malware from your devices on the respective platforms. We also provide instructions on how to execute related tasks.
What are the Symptoms of Stalkerware on Your Phone?
Are you scared that your spouse installed some apps because they suspect you are cheating?
Stalkware apps are not hard to detect if you know what to look for. Most of them do not work properly on all devices, so they have some inherent pitfalls that make them easy to identify. The thing about spyware is that there are so many different kinds, and each of them causes different symptoms. We have Android spy apps, iPhone and Android keyloggers, iPhone spyware, adware, and a lot of other types. So, check out the symptoms list to ensure that none of these live on your phone rent-free.
If you are looking for how to check your phone for spyware, here are some of the most common symptoms. They are a good place to start if you seek to sanitize your device.
Hot device
Stalkwares are notorious for making devices hot. This is because spy software uses a lot of system resources such as CPU which in turn generates heat.
If your device is getting unusually hot, chances are it has stalkerware on it. The device will get physically hot and can be felt on hand or in the pocket.
Battery draining quickly
If you are charging your smartphone more often than usual, chances are the culprit is stalkerware.
Stalkwares are active 24/7 because they monitor, collect and send data to the installer at every opportunity. This makes them drain smartphone or other device batteries rapidly.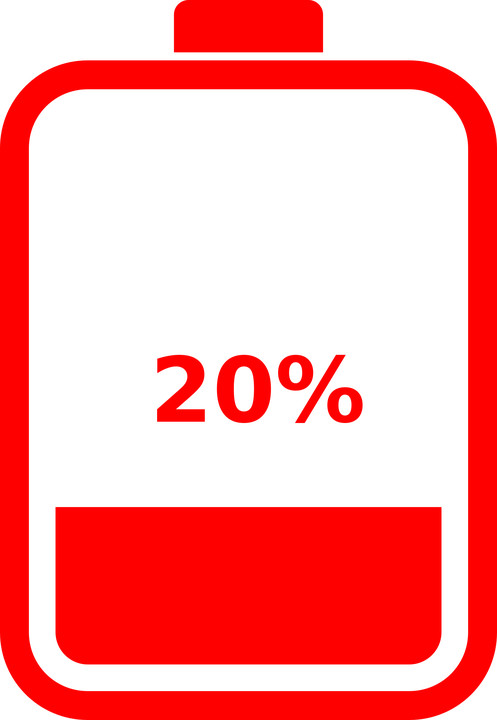 Unfamiliar pop-ups
If there is a sudden appearance of weird pop-ups on your device, stalkerware might be the cause. Some may do so because they are malfunctioning, others might be trying to trick you to give them permissions.
Most of these pop-ups never make sense, as well as the possibility of being in a foreign/unfamiliar language/ signs.
Unfamiliar apps
If there is an installed application on your app list that you have no knowledge of installing, chances are it is stalkerware.
People always remember the apps they install and it's easy to identify the one you didn't perform. If you want to find spy apps on your phone, unfamiliar apps are a great starting point.
Device is slow
Stakwares tax system resources such as CPU and Memory heavily. Most of them are inefficient and are not programmed to run on all devices.
Your device can get noticeably slow if it's seeing heavy use or underpowered.
How to Detect Spyware on Android?
If you are wondering how to detect spyware and hidden applications on Android, you are in the right place. Cell phone spyware detection and removal is not rocket science and can be done by anyone.
We have compiled a list of common and proven techniques on how to detect spyware on Android:
Enable installation from unknown sources
A clear tale sign that there is spyware on your device is if the provision to install apps from unknown sources is enabled. This setting is found in all modern android builds; allows users to install apps downloaded outside the Google Play Store.
Every spyware installation requires this option to be enabled. However, a smart individual can always disable the option once the installation is complete. You can find this option by following these steps:
Open Settings
Open Biometrics & Security
Locate the Install unknown apps option
Set up permissions for each individual installation source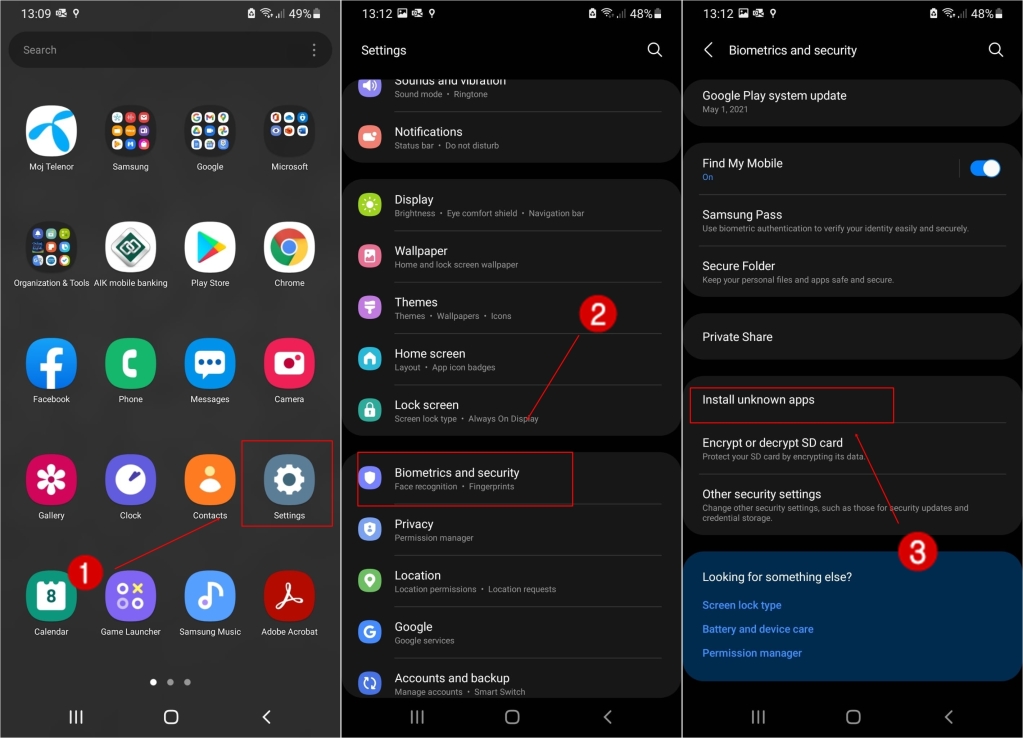 Foreign apps
A foreign app is most likely a stalkerware app; it is extremely difficult to install an app without knowing. Always be on the lookout for unfamiliar apps on your device.
A simple stroll through the list of your installed apps will help you spot potential spyware. Identify any that seem foreign and investigate them with a simple Google search ( Names of spyware programs on Android have been published online by many users).
Root Checker
Most spyware requires Android devices to be rooted to function correctly. If you haven't rooted your device personally, you can check if the root is intact.
The Root checker app in the play store can be used to show whether or not root access is working as it should. If you find your device has been rooted, someone might have installed a spy app!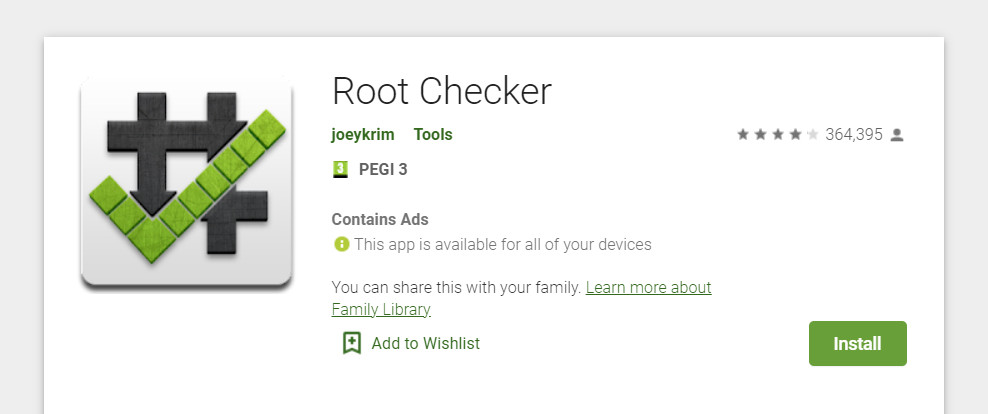 Android spyware detection apps
You can also employ spyware detection apps for android. A spyware detector is as simple as it sounds; detects malicious software on your device.
Most antiviruses can detect if there is malware on your device.
How to Find Spyware on iPhone?
iPhone users do not experience nearly as many spyware threats as Android users. iOS is a very secure platform, making it very hard to compromise remotely with Stalkerware iPhone.
However, iPhone users are not immune to their devices getting compromised. If you want to know how to detect spyware on iPhone 6 or any other iPhone, you can perform any of the tasks below.
Check for jailbreaking
iPhones are hard to install malware on unless they are jailbroken. Therefore, If you did not jailbreak your device personally, chances are someone has installed spyware on it.
To check for jailbreaking, look for an app called Cydia on your device. This is a package manager that enables the installation of third-party software on jailbroken iOS devices.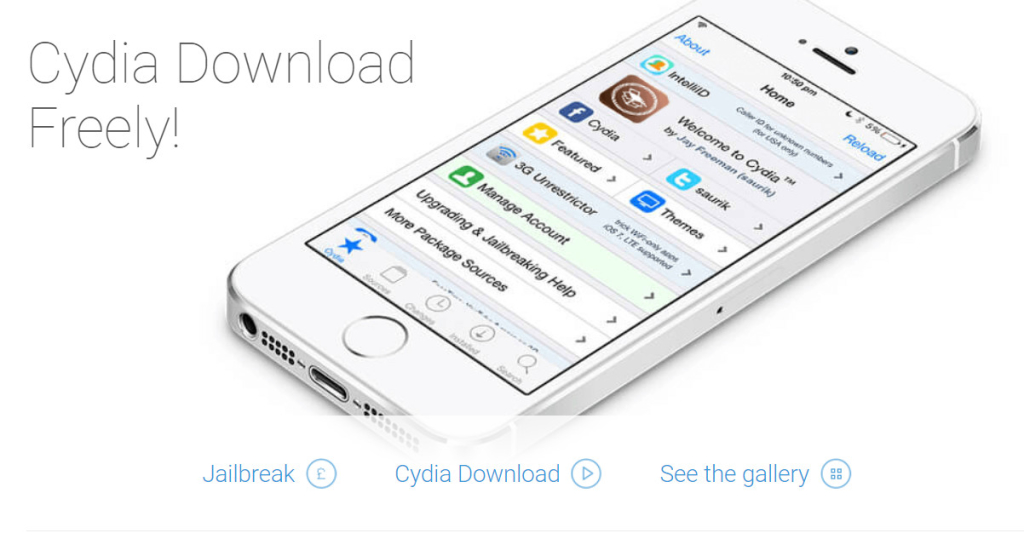 Check for foreign apps
While most spyware does not have an app icon, especially not on the screen, but it can still be located on the device. If the installed spyware does not require jailbreaking, then it's installed like any other app.
To check all your installed apps on an iPhone, Swipe left past all your Home Screen pages to arrive at the App Library. Here you will find all your apps organized by category. Make sure to look for keyloggers too, since that is also considered to be spyware because it keeps track of all your keystrokes.
iPhone iCloud
If you share your iCloud credentials with a partner or spouse, they may find it easy to install a spy app on your iPhone. iCloud credentials are iOS gatekeepers; sharing them is like giving the key to your house. Change your ID and password just in case, to make sure that one is keeping an eye on you.
Some best cell phone spying apps can be installed remotely on iOS if the malicious individual has iCloud credentials.
How to Detect Spyware on a Computer?
Detecting spyware on a computer can be very easy, or may turn into a nightmare. PC troubleshooting requires extensive knowledge and dedication to troubleshooting.
Malware manifests itself in different ways on a computer or is completely undetectable. If you want to know how to check malware on your personal computers, here is how to go about it.
How to Detect Spyware on Windows 10?
Detecting spyware on Windows 10 can be a daunting task. The windows platform has been heavily targeted by hackers, as such, there are tonnes of different windows spyware.
No single solution can work for all of them. However, we have found several tested and proven techniques with positive results.
Windows Defender & other antivirus software
Detecting spyware on windows 10 can be as easy as running a virus scan with the built-in windows defender antivirus. This will conduct a system-wide scan to check for any malicious software. Or, use antivirus software such as BitDefender, which comes with additional privacy protection features.
To run the scan and detect spyware on Windows, here's what you should do:
Type Windows Defender on the search bar and click Open Windows Defender Security Center on the suggestion list that appears.
Click the Virus and Threat Protection button on the left side of the window that appears. Click the Quick Scan button.
Windows Defender scans your computer and reports any findings.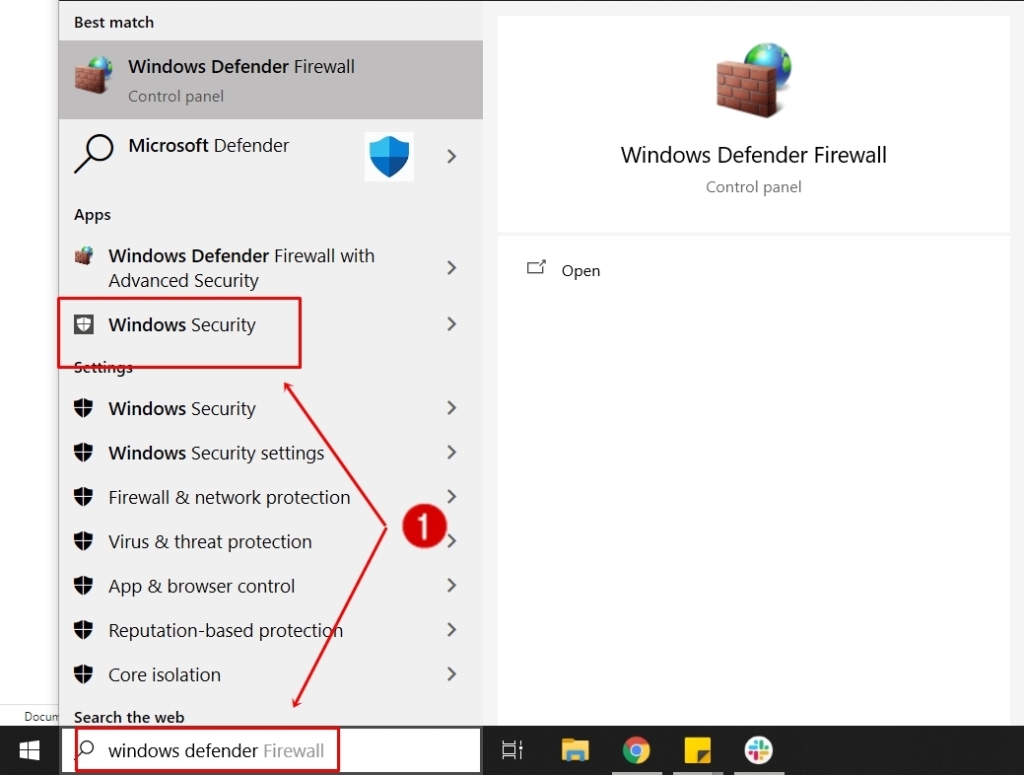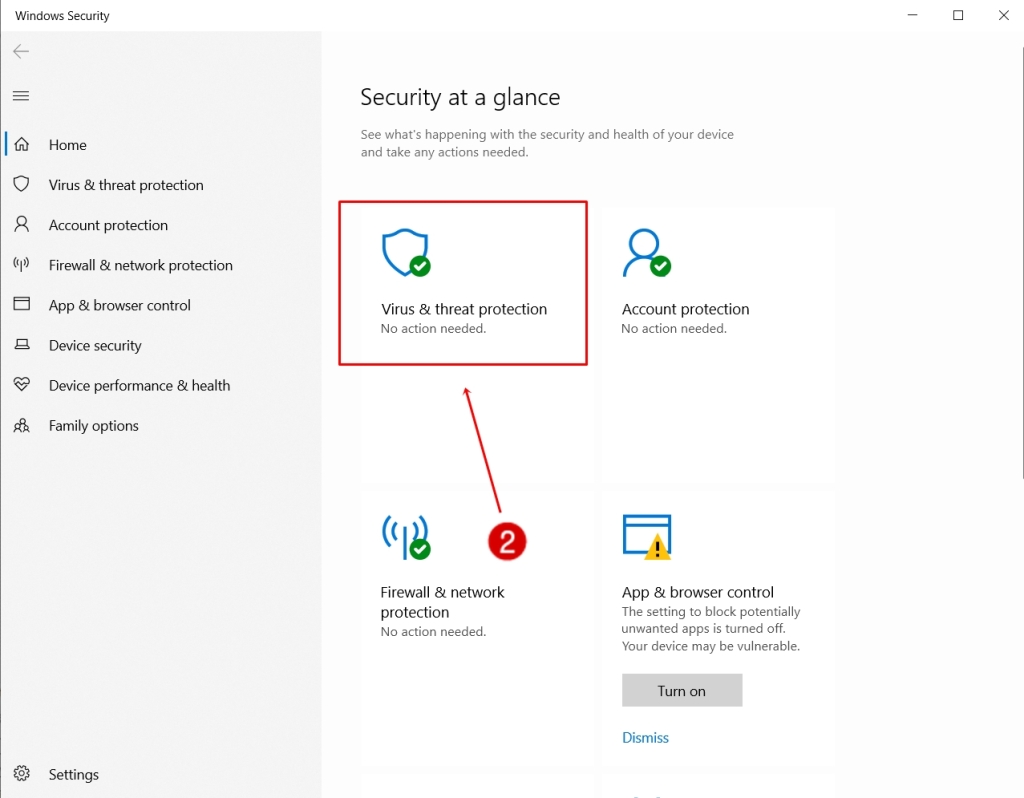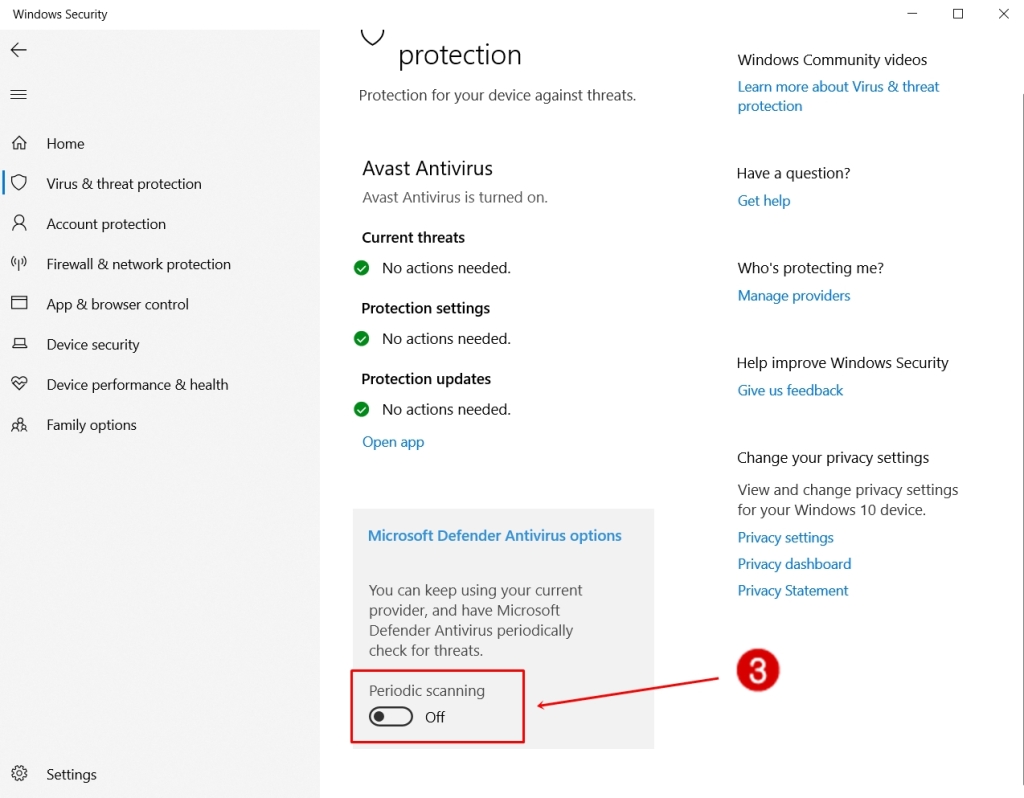 2. Checking your installed applications
Checking the list of your installed apps is a great way to find malware on Windows 10. Some apps install complementary/support software that might be malware.
Only make sure the correct app is installed on your device. If anything looks off, simply search its name on google to read its description.
To access your installed app list you can Tap on the Windows explorer icon at the taskbar then tap on Uninstall or Change a program. The fully installed application list will appear.
3. Watch out for abnormal activities
You can detect malware on Windows 10 if it is behaving abnormally. A slow boot is one of the clear indications of malware. Often failure to execute certain tasks such as opening several other programs may also be an indicator of malware presence. You can check BIOS and startup time in the Task Manager. To access it press Ctrl + Alt + Delete, and then choose "Task Manager."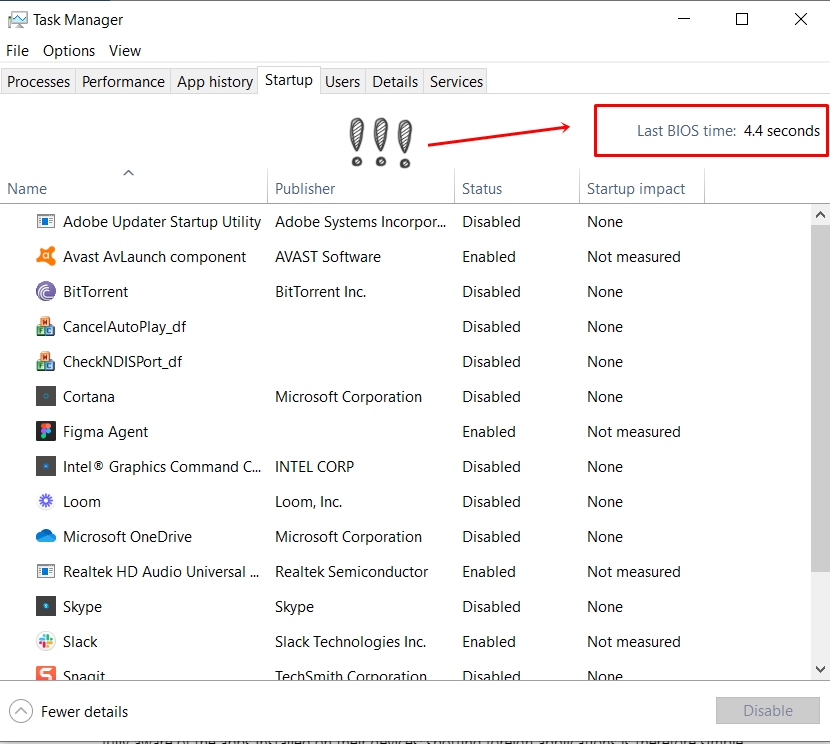 How to Detect Spyware on Mac?
Detecting spyware on Mac is no different from windows. This is because malware affects both platforms similarly and they are relatively similar in functionality.
It is important to note that malware on Mac is rare; Apple is always on top of keeping up vulnerabilities and exploits. However, we know all malicious attacks aren't external, so it's important to know how to detect malware on Mac.
Detect Malware with XProtect
You can detect malware using the built-in Apple antivirus known as Xprotect. XProtect will scan all installed applications and saved files for malware and show you the results.
As mentioned Apple is on top of its threats and security game. The Xprotect software database of threats is updated daily.
You can also employ other third-party antivirus software installed on your Mac. They do a pretty good job of identifying and reporting known malware.
Check installed and running apps
Checking your installed applications on Mac is a simple and easy way to do a quick malware scan. Most Mac users are fully aware of the apps installed on their devices; spotting foreign applications is therefore simple.
Often, malware will use generic names like update services, making them easy to spot on the list. Some also have unconventional icons, unlike normal Mac programs.
You can check any running apps on your Mac by clicking "Launchpad," then " Other" and "Activity Monitor". Use Spotlight to reach the activity monitor quickly to check the status of running programs.
How to Remove Spyware from Android?
According to our team of experts, these are the best methods you can use to remove spyware from Android:
Use spyware removal tools
Using spyware removal tools is the common spyware ousting practice. Most antiviruses are capable of removing just about any spyware.
There are many free antivirus software for download on the Google Play Store. Any will do the work but, make sure to check for great real user reviews before.
If a free version is not cutting it, upgrading to a paid version might do the trick. Spyware removal is an advanced feature and most antiviruses will require a premium subscription for such feature to be active.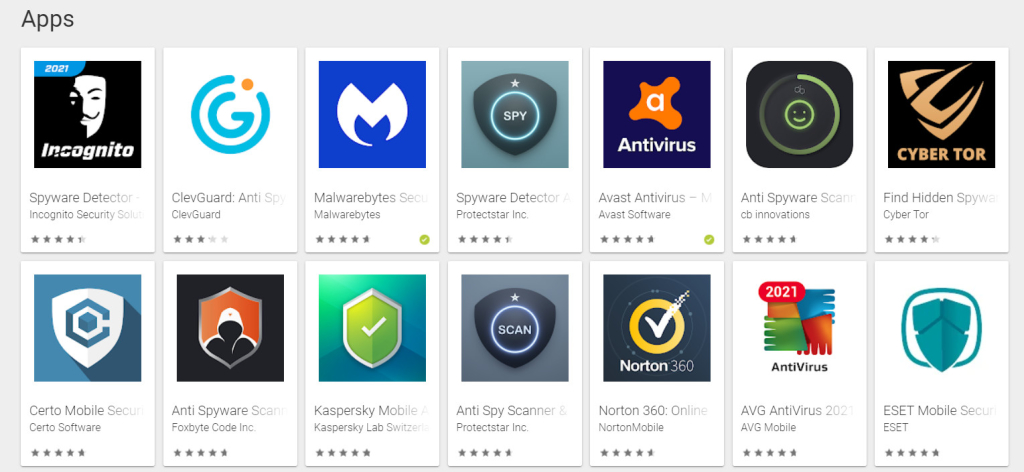 Delete suspicious apps
Deleting a suspicious application is a simple and effective way to remove spyware from the phone. Any app you have no knowledge of installing can be malware.
To uninstall any app on an Android phone, long-press the app icon then tap uninstall on the options provided. Monitor any weird issues you were experiencing, say if the device was getting hot, to confirm malware removal.
Delete suspicious files
Malware is often contained in suspicious download files. To install malware, the attacker must have a .apk file on your device.
If you find any file with this extension, and you did not personally download it, delete it immediately. If you have an antivirus installed, do a full device scan to confirm there are no infected files on your device.
Do a factory reset
Doing a factory reset might be your only option If you want to remove spyware from phone. If none of the above methods have succeeded, a full factory reset might do the trick.
Some spyware is too advanced to be removed by antivirus. Doing a factory reset will wipe all data and programs and restore only factory pre-installed apps. Here's how to do it:
Open Settings
Navigate to the General Management section
Find the Reset option
Click on Factory Data Reset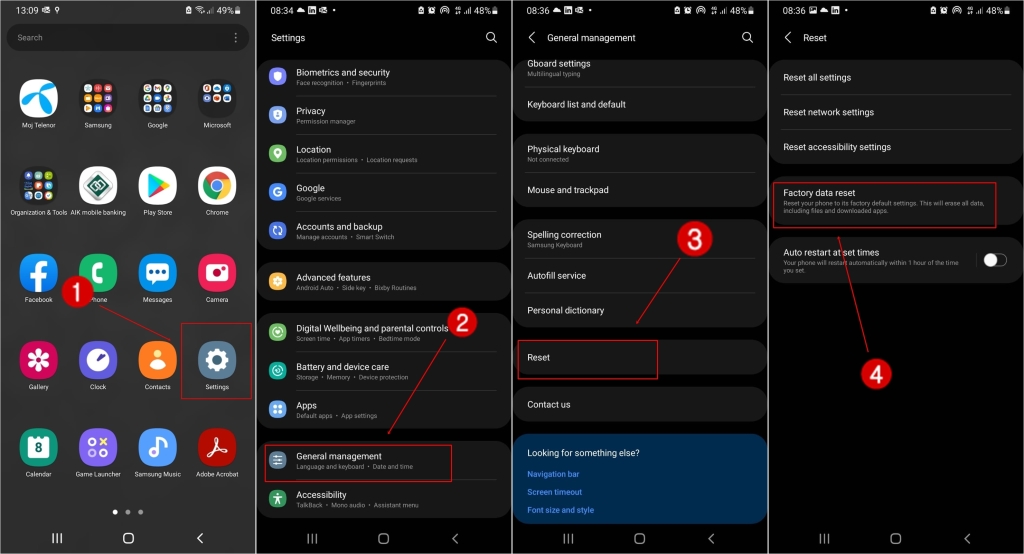 How to Remove Spyware from an iPhone?
If you're wondering how to detect and remove spyware from iPhones, here are a couple of ways to do it:
Keep your iPhone updated
If you are wondering how to get rid of spyware from your iPhone reliably, keeping updated might be the answer. Apple frequently releases security updates and has a vast malware database.
Simply keeping your device updated is enough to prevent it from malware attacks. Updating is also free and takes no time at all, making it very convenient.
Use spyware remover
Using a spyware removal tool like antivirus is a safe way to get rid of malware on your iPhone. Antiviruses are your best bet when it comes to malware removal on iOS.
If you already have an antivirus installed, ensure it is always up to date. Updates often carry protection against newly released malware as well as features and customization upgrades.
Delete suspicious apps
If you identify any foreign apps with a malicious vibe, your first step should be to try and uninstall them. Most malware can be removed through a simple uninstall procedure. Simply Long Press the app on the Home Screen, Tap Remove App, then Tap Delete App to delete it from iPhone.
Restore your iPhone to factory status
Restoring your iPhone to the factory might be your only option if the spyware cannot be removed by any of the above. Advanced spyware cannot be deleted like normal apps.
They can only be removed by the installer or attacker. This might not be an option as not even your spouse would want to admit spying on you!
To restore your iPhone and wipe all its data, head to Settings > General > Reset. Enter your Passcode, or Apple ID password when asked and Tap Erase All Content and Settings.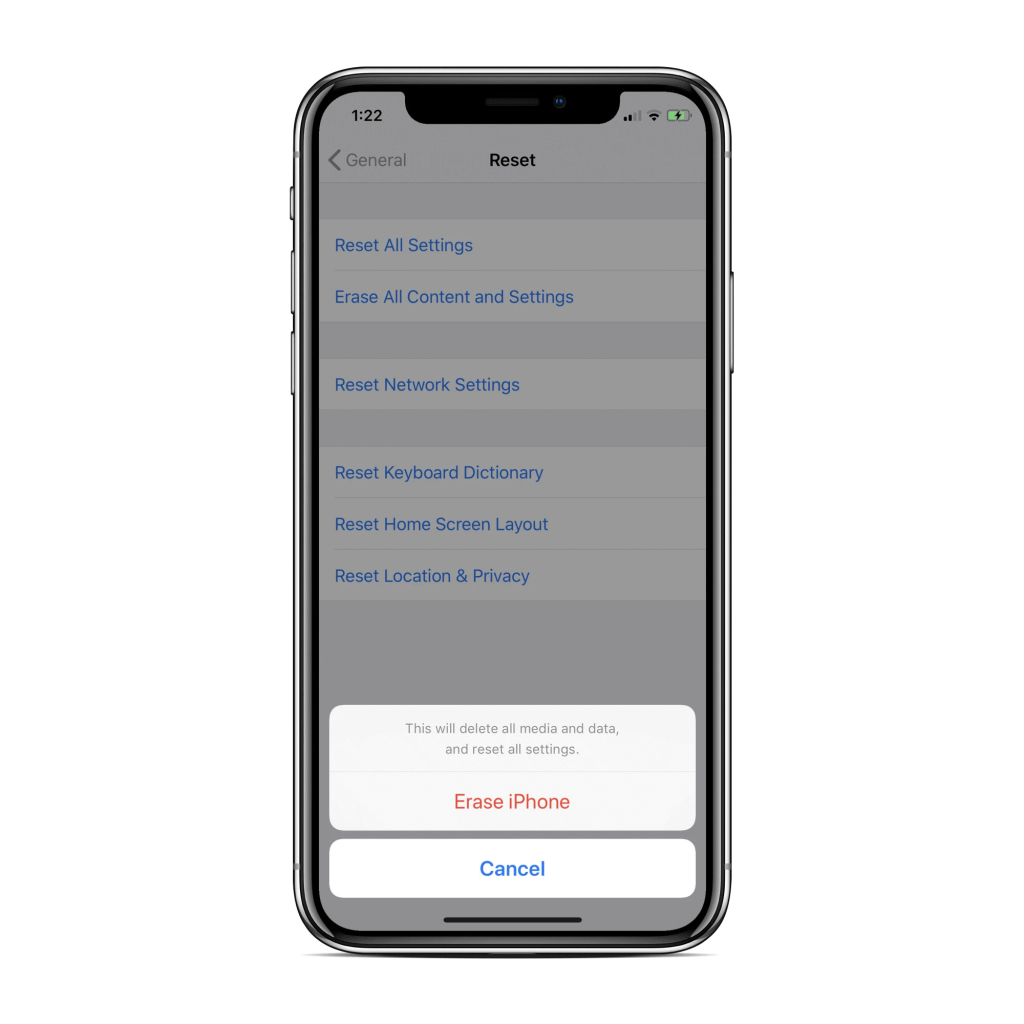 How to Remove Spyware from a Computer?
Our computers are the hubs of most spyware that spreads to other devices. Removing all malware within them is key for your entire threat and virus protection.
Whether it is a Mac or Windows PC, there are similar ways to go about removing the malware. In this article, we present some of these methods.
How to Remove Spyware from Mac?
Removing spyware from Mac is similar to Windows, only with different tools. Here are a couple of ways to fix this:
Spyware removal tools
Spyware removal tools such as antivirus software are extremely effective at removing malware on Mac. Developers at Apple constantly update their threat protection to keep users safe from unwanted malware or ransomware.
You can use the Xprotect built-in Mac or any other antivirus like BitDefender to scan and remove malware from your device.
Deleting apps
Deleting installed suspicious apps from your Mac is a useful malware removal method. Not all apps can be detected or removed using a malware remover.
Deleting an app, which also erases its data, is a sure way to get rid of any malware that can be removed by antivirus.
To delete an app on Mac use the Finder:
Locate the app in the Finder or use Spotlight
Select the app and choose File > Move to Trash
Enter the username and password of the device administrator
Empty the Trash to delete the app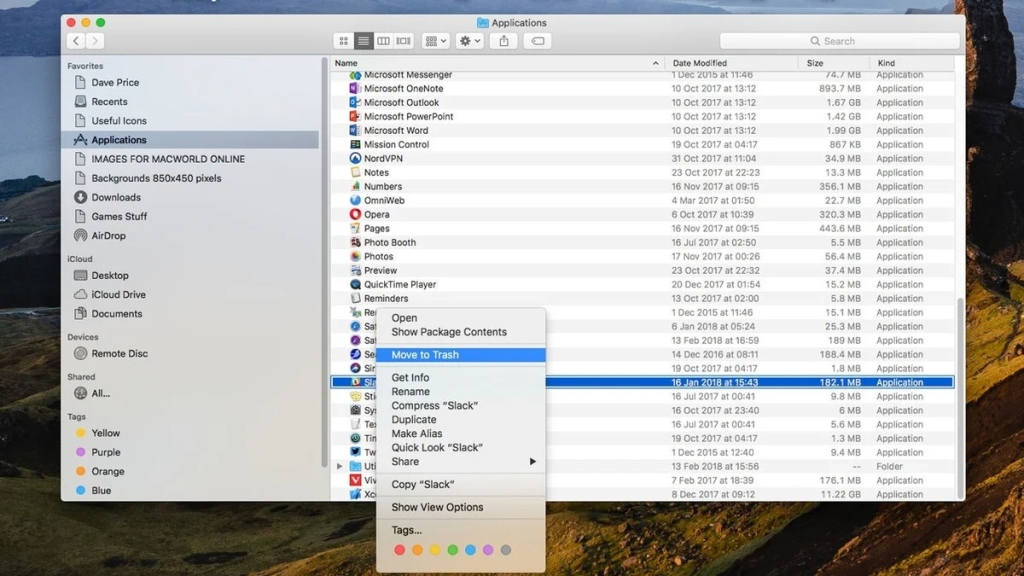 3. Factory Reset your Mac
Factory resetting your Mac might be your last stand if you meet stubborn malware. Sometimes a device is too far infected and corrupted.
Starting on a clean slate might be your only option. You can use these instructions from Apple's support page to successfully reset your Mac.
How to Remove Spyware from Windows 10?
If you want to remove spyware from your Windows 10 PC, there are several ways to go about it. It will vary depending on the severity of the infection or attack.
How to remove spyware from PC using an Antivirus
Using an antivirus is a great way to get rid of malware on Windows. Most antivirus users are actually on Windows as Mac OS and Linux are pretty stout when it comes to threat protection.
You can use the built-in Antivirus, Windows defender, to perform a scan and deal with the malware threats. However, third-party antiviruses have been known to work better. Or, if you'd like something even more effective, you can always try advanced protection software such as BitDefender and similar options on the market.
Uninstalling malicious programs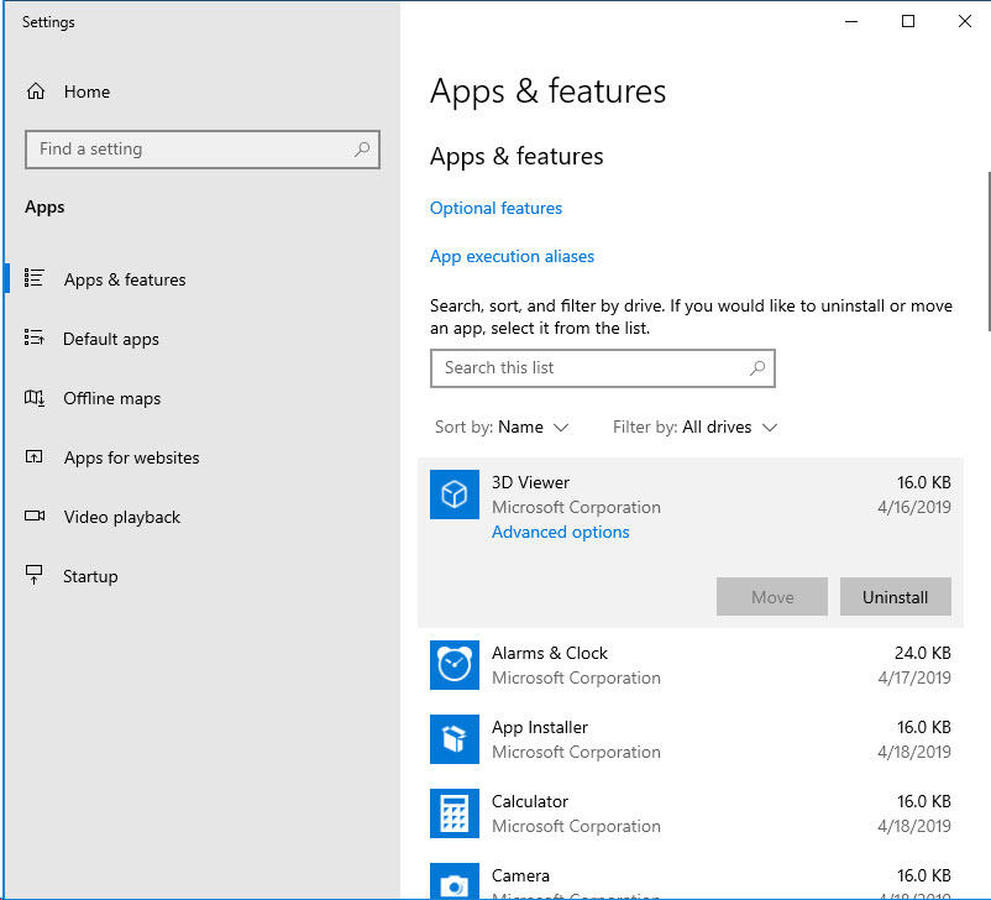 If you detect symptoms of a malware infection, and you have recently installed a program, removing it can be the solution.
Most Windows users like to use pirated and free apps. Hackers often embed malware or spyware on these programs for malicious gains.
To uninstall a program and its features:
Tap on the Windows explorer icon at the taskbar
Tap on Uninstall or Change a program at the top of the window. The fully installed application list will appear.
Scroll down to the app you want to uninstall and Click on it.
Tap uninstall
Follow all prompts to completely remove the software
Restart your device once complete
3. Reset Windows
Resetting Windows is your last stand if you have spyware on your PC. This option can be explored when you have malware that can't be uninstalled or removed using an antivirus.
Resetting your Windows 10 PC will reset the operating system; all installed programs, their data, and settings will be wiped from the device. User data will however remain intact.
Be wary not to re-infect your reset windows with old files. We recommend backing them up and deleting them from the PC.
How to Remove Malware from Google Chrome?
If your chrome suddenly opens new tabs that won't go away, its homepage or search engine keeps changing without your permission you might have malware. Other symptoms include unwanted extensions and toolbars or redirects to unfamiliar pages.
If google chrome is showing any of these symptoms, your device has been compromised. If you want to get rid of spyware on chrome, one of the methods below will do:
Remove unwanted programs
Recently installed unwanted programs are the key reasons for malware in Chrome. They often set unwanted homepages, show pop-ups, and ads, or corrupt Chrome files and settings.
Uninstalling any unwanted programs should be your first step, else, malware on Chrome will persist! Chrome will help you identify any suspicious programs on your device.
To remove unwanted programs on Chrome, simply follow the steps below:
Open Chrome.
Click More at the top right and then Settings.
Click advanced at the bottom
Click Clean up computer Under "Reset and clean up,"
Click Find.
Click remove If you're asked to remove unwanted software.
Reboot your computer to complete the process if asked.
Reset Chrome settings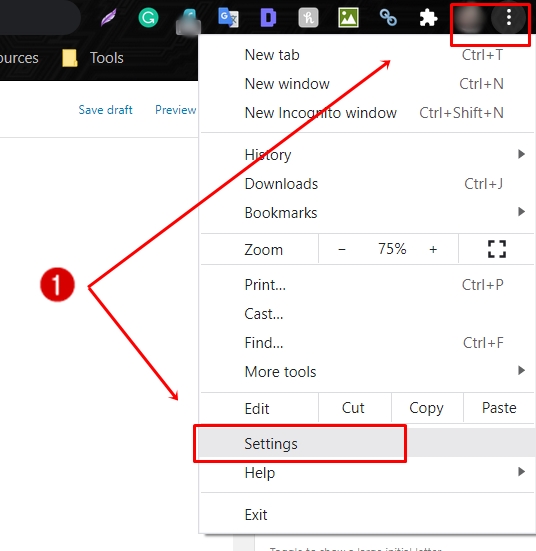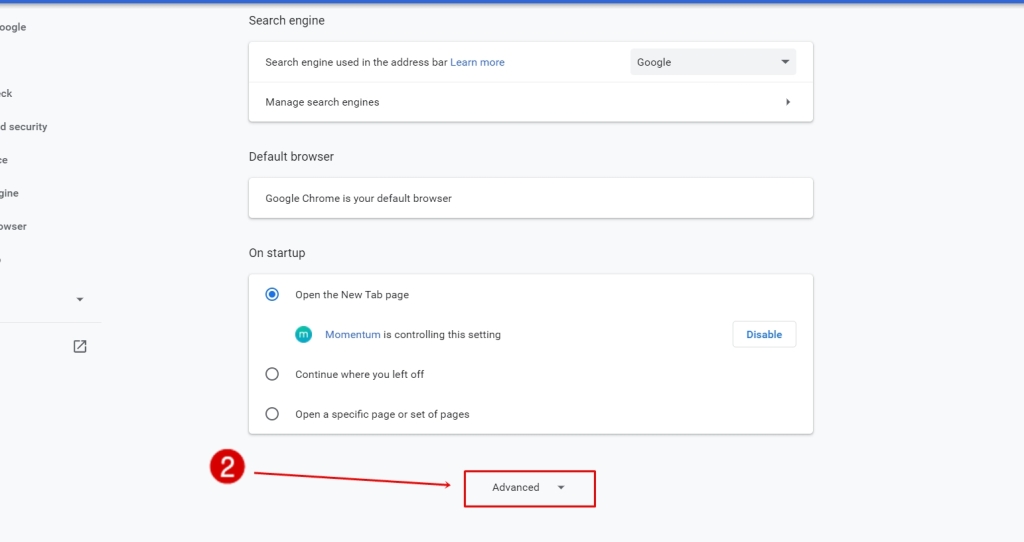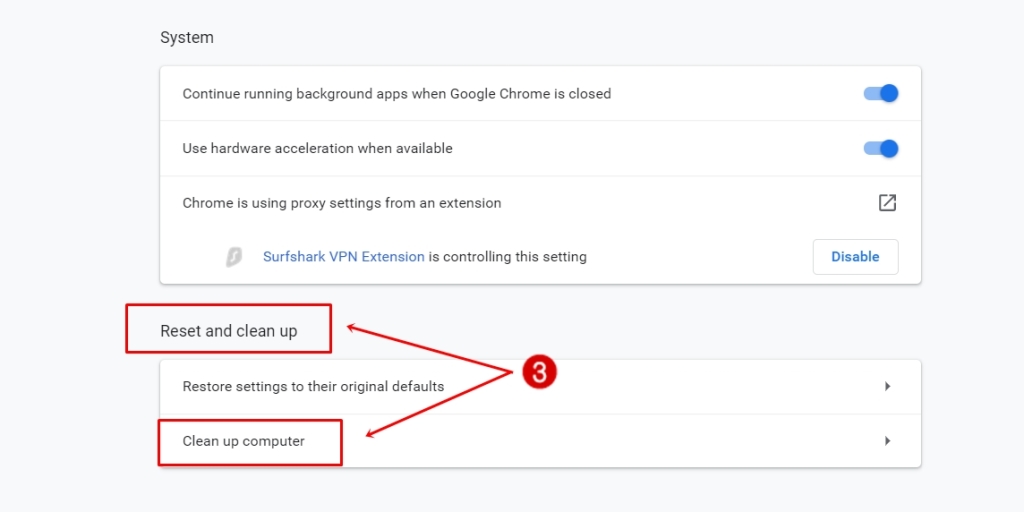 Resetting your Google Chrome settings is a quick and easy way to get rid of the malware. Resetting your browser settings will restore it to factory settings.
This will delete all browser data, remove all extensions as well as clear history and bookmarks.
To reset your Google Chrome, follow these steps:
Open Chrome
Click More at the top right, and then Settings.
At the bottom, click Advanced
Click Reset Settings under "Reset and clean up," and then Reset Settings.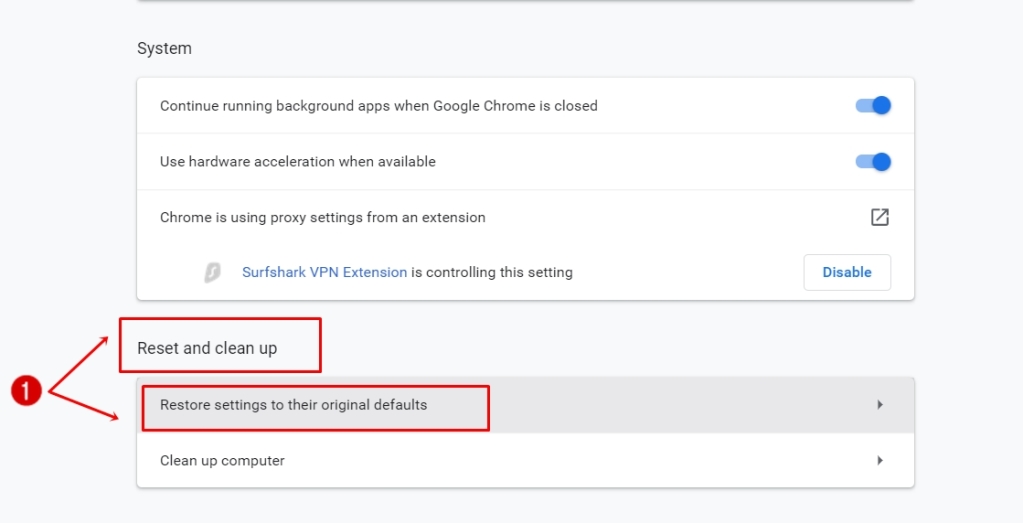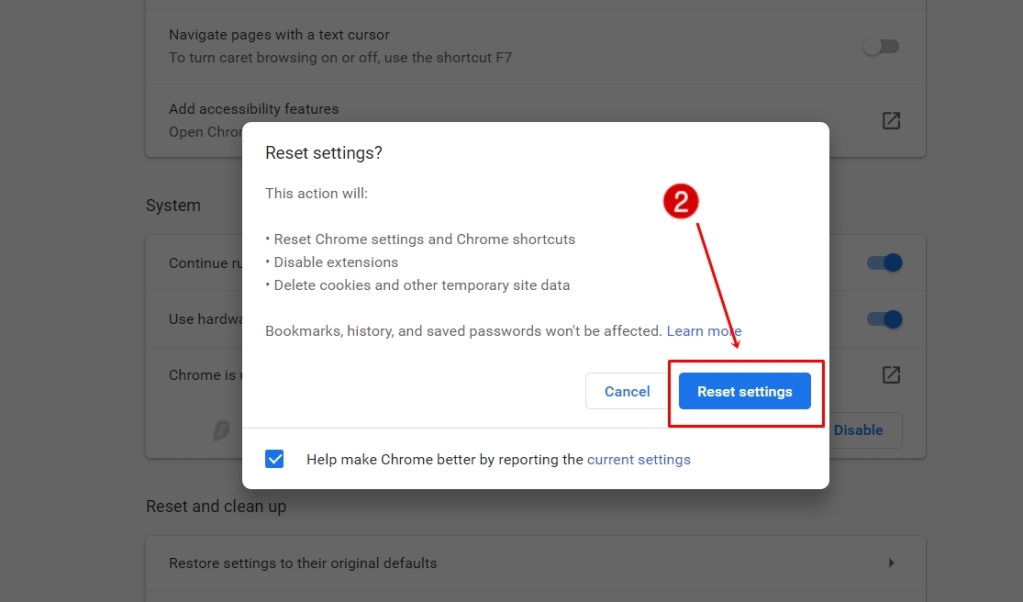 What's the Best Android Spyware Detection App?
It's difficult to single out the best Spyware detector for Android. New malware pop-up online daily and it's hard for a single removal tool to catch them all.
However, according to our research team, BitDefender does a pretty great job of it because the app is constantly updated and offers a plethora of additional privacy protection features. We recommend looking for a pro or premium version of the BitDefender antivirus to ensure maximum efficacy. However, most other available spyware removal tools will work just fine.
Can Antivirus Detect Spyware?
Yes. Antiviruses are great at detecting spyware and hidden cheating applications on Android and iPhone, as well as computers., if not the best tool for the job. Antivirus companies spend tons of resources to be up to date with the latest security threats.
They then update their threats and protection strategies and databases to counter new malware. Always make sure to keep your antivirus updated to have the latest protection against malware. Antiviruses are also an effective tool in malware removal.
How to Tell If Your Computer Is Being Monitored by the Government?
You can tell your computer is being monitored by the government if you see symptoms of spyware on your device. Your battery drain may increase, the device gets hot, or you may notice increased mobile data usage.
Governments use spyware to keep tabs on persons of interest by monitoring social media and messages. If you suspect you are being monitored, perform an antivirus scan and remove the identified app.
We recommend backing up your data and doing a full reset to be safe! And, if you're scared that the government might be watching you, then steer clear of any illegal activities!
Summary
Spyware is sneaky and does a great job of hiding itself if you don't know what to look for. In this article, we have discussed how to detect and remove spyware on your devices using signs and symptoms, spyware removal tools, as well as device/software resets. We explored these options because they have been tested and proven by a lot of people. Removing malware may also be a mammoth task, especially if it attaches itself to your operating system or to memory-resident background programs you do not know about. This article provides you with all the basic and advanced steps you can take to detect and solve any malware pandemics you might be having!