How to Spy on Your Boyfriend's Phone Without Touching It
There are times when we can't help but be suspicious of our partner's actions, especially if those actions are something that they don't usually show when you're around. Women would be willing to do almost anything to discover what their boyfriends are doing, even spying on their boyfriends' cell phones.
Have you always asked yourself, 'How to spy on my boyfriend's phone for free?' You're right where you should be! These are the ways to spy on your boyfriend's phone:
To use reliable spy software to spy on someone's phone.
To use a free spying website.
Too long to read? Here's our top choice!
🥇 mSpy – our iPhone and Android app to spy. Invisible, fast, and reliable for all your spying needs. You can screen record the target phone, spy on social media platforms, read boyfriend's messages, view calls, and browsing history. No jailbreaking or rooting.
Check out this table summarizing the spy apps in this article:
Name
Features
Compatibility
Live Demo/Free Trial
mSpy

Keylogger
Geofencing
Website Block
Social media monitoring
GPS location tracking

Yes/14-days money back guarantee
SpyBubble

Incoming and Outgoing calls monitoring

 

SMS commands
GPS location tracking
Instant messages and social media tracking

No/14-days money back guarantee
eyeZy

Social media logs
Incoming and outgoing calls log
Stealth camera feature
Screen recorder
GPS location tracking

Yes/14-days money back guarantee
uMobix

Access to the gallery and other media
Keylogger
GPS location tracking integrated with Google maps

Yes/14-days money back guarantee
How to Sync My Boyfriend's Phone to Mine
To sync your boyfriend's mobile phone secretly to your device for free, we recommend using Google Sync. However, it works for target android devices only, and you'll have to obtain physical access to your spouse's cell phone to add your account. Moreover, if he checks the synced account section, he'll be able to see that you tried to spy on him.
The easiest and most reliable way is to use one of our favorite cell phone spy apps mentioned below. You can sync his phone to your own phone remotely if he has iCloud. All you need to do is find out his iCloud credentials. These apps also work on Android but require physical access in that case. Let's go more in-depth about these girlfriends spying apps – our favorite is mSpy app.
This phone-spying app can be installed on both Android and iOS platforms. So, you can choose tool nor only for Android but find spy apps for iPhone too. However, you must download and install a different version to ensure compatibility with your target phone.
How to Spy on My Boyfriend's Device Without Him Knowing
If you're looking for a reliable mobile spy app to spy on your boyfriend's phone, the mSpy app is undoubtedly one of the best options. It's an excellent couple tracker app that allows you to monitor your boyfriend's phone and all of his phone-related activities without having access to his phone.
The app remains completely hidden in the background (Stealth Mode) , so it won't be that easy to detect. It secretly collects data from that cell phone and then uploads it to mSpy's website, where you can view it by logging into your account.
Since the information stored is encrypted, you don't have to worry about them being accessed by other individuals.
Also, the app is available on Android and iPhone devices, so you can rest easy knowing that you can spy on your boyfriend's cell phone regardless of its platform.
Believe it or not, some mobile device spy apps can also activate the phone's microphone remotely to listen to the phone surroundings and let you hear what your loved one is doing.
mSpy Features
One of the main reasons for mSpy's and other spy apps' popularity is that it comes with several unusual features designed to make phone spying much easier.

Let's explore what those features are:
Phone calls and call logs;

GPS tracking and geofencing

;
Media files viewing;
Installed applications viewing;
Monitoring of social media apps;
Web browser history monitoring and blocking;
Keylogging.
Spy on Your Boyfriend's Android Device
To start spying on Android phones, you must first have physical access to the device. The installation process is very quick & easy.
Step 1: Create an account, choose a spying app subscription package, and install mSpy into your boyfriend's Android phone.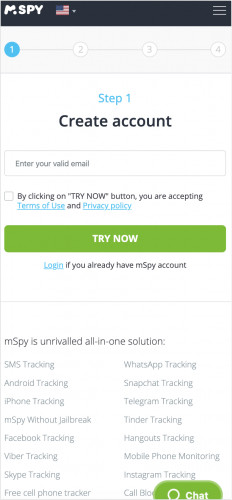 Once installed, the application will stay hidden, so your boyfriend won't be suspicious.
Step 2: Log in to mSpy's website using your account. On your control panel, choose the Android option.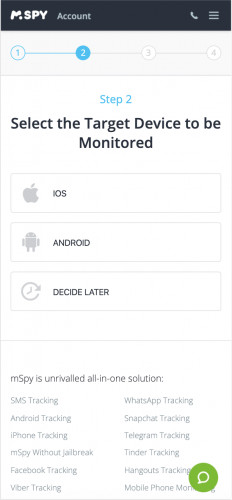 Step 3: Start using this phone monitoring app to read boyfriend's text messages and call logs anytime you want.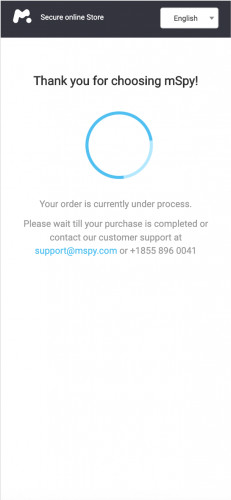 Step 4: Visit your control panel from time to time.
Spy on Your Boyfriend's iOS Device
You have two options when installing mSpy on an iOS operating system:
1) With jailbreaking iOS device;
2) Without jailbreaking it.
Here are the installation instructions:
Jailbreak target device
Newer iOS versions don't have a jailbreak version yet. This means you can only use this option for iOS devices starting from version 7 up to 9.1.
Step 1: To install the app, you must jailbreak the target device.
Step 2: Download mSpy application, tap on the app icon, and install it.
Step 3: Proceed to your mSpy's control panel, then choose iPhone to start tracking. You'll see your boyfriend's device activities immediately.
This method will take around 15 minutes or so compared to Android devices.
Without jailbreaking the target device
You'll need his iCloud credentials to install it without jailbreaking his device.
Step 1: Install the app on your boyfriend's phone.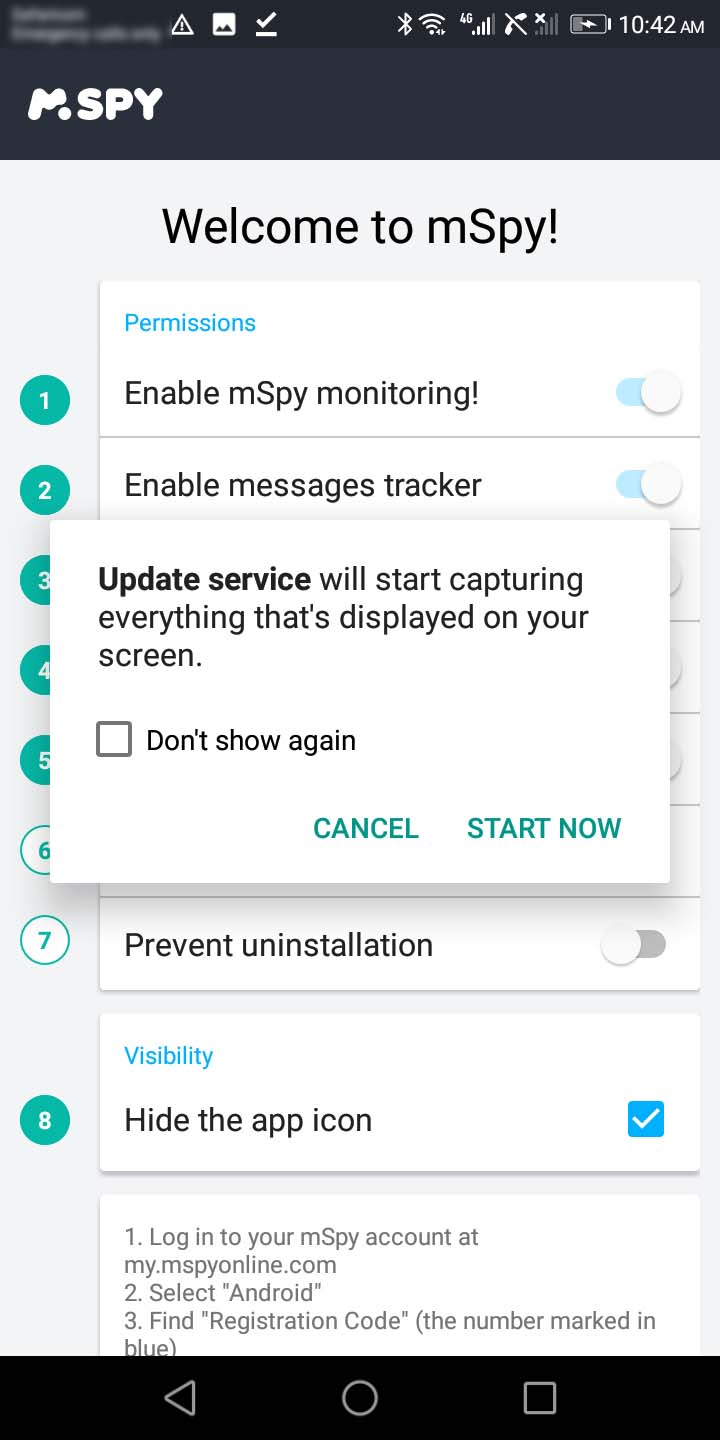 Step 2: Log in to your control panel to monitor all their messages. Using these spying apps is that easy.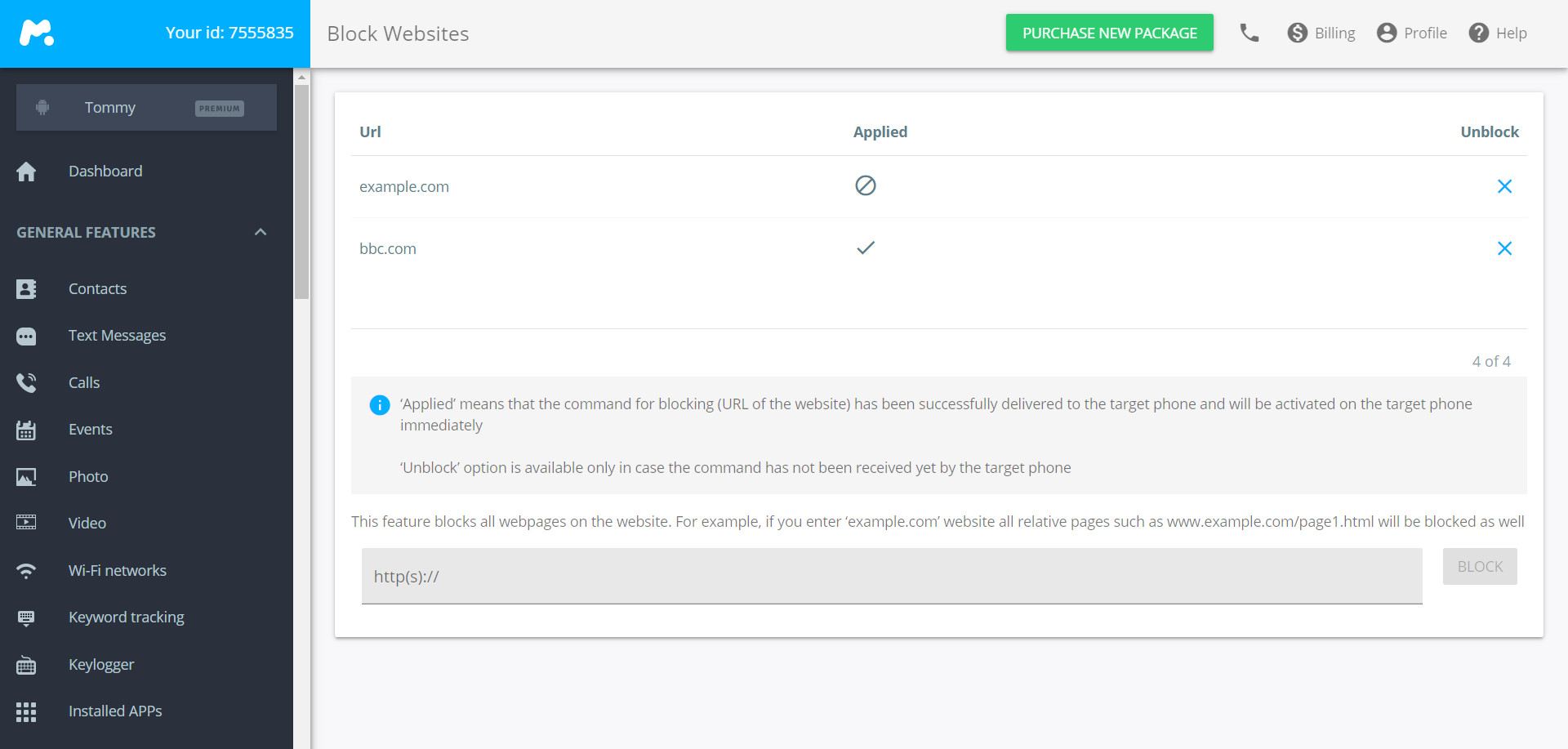 Step 3: Enable iPhone backup > go to the target device Settings > turn on the iCloud Backup option > go to Backup >tap on Backup Now.
Pros
It can also work with desktop computers running on Mac and Windows
Allows monitoring for 9 different messaging apps such as Snapchat, Facebook, etc.
Provides you with detailed monitoring of your boyfriends' phone activity
Installed apps works silently in the background without your boyfriend ever knowing
Cons
Doesn't work on Symbian or Blackberry devices
Doesn't have advanced monitoring features like call recording or secret camera activation
Summary: Regardless of its downsides, the advantages of using mSpy can easily outweigh all of those. It's a handy application that lets you spy on your boyfriend's phone without him knowing. It's really efficient, especially if you've been growing somewhat suspicious of your boyfriends' actions.
eyeZy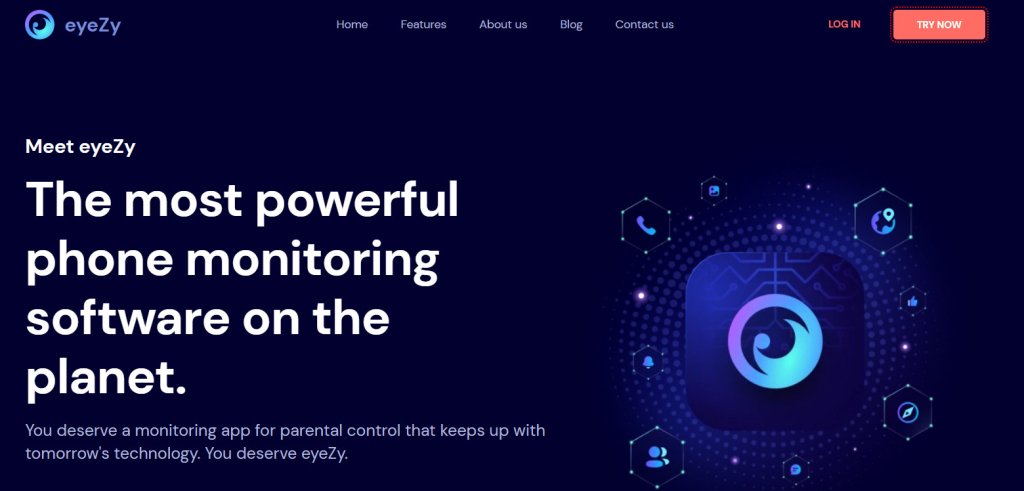 eyeZy claims to be 'the most powerful phone monitoring software on the planet,' and they do a good job of living up to the tag. When you install the app on your boyfriend's phone, you can easily monitor information on his phone – text messages, dating apps, social media, phone calls, calendar, GPS tracking, etc. 
eyeZy offers a screen recorder that captures everything on your boyfriend's screen and a keylogger that records every keystroke while staying hidden on his phone. We love the location tracking feature that combines GPS tracking with Wi Fi networks based location information. With eyeZy, you can even view messages deleted by your cheating spouse!
eyeZy Features
Track GPS location;
Keylogger;
Screen recorder;
Social media monitoring;
Keeps track of incoming and outgoing calls;
Tracks browser history;
Accesses multimedia storage.
Pros
Geofencing
Screen recorder
View deleted messages
GPS tracking
Cons
You can't delete apps on the target device
SpyBubble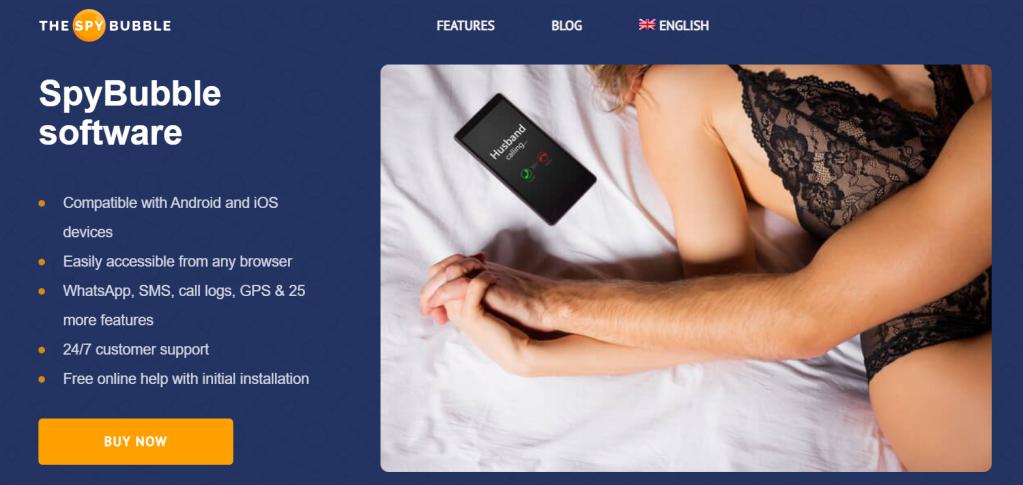 SpyBubble provides up to 49 spying features that make it simple and convenient to monitor any device. It assiduously gathers all phone data while operating in the background invisibly and transmits it to your Spybubble account on their website. Access this information quickly through a dedicated control panel and check almost anything happening on the target phone by navigating through various sections.
The fact that it provides SMS commands distinguishes it from many other top spy applications available on the market. This feature allows users to remotely transmit texts from the target phone, delete data, or lock particular phone activities. Alerts, which let you get notifications when your cheating spouse carries out actions you've previously marked, are another noteworthy feature.
Features
Keylogger;
Social apps tracking;
Access contact lists, incoming and outgoing calls log, and text messages;
Access browser history;
View deleted calls and messages;
Audio and Video Stream;
Restrict calls;
Disable messages.
Pros
Keylogger
View deleted messages and calls
Audio and Video Stream
GPS tracking
Cons
Rooting needed to access some features
uMobix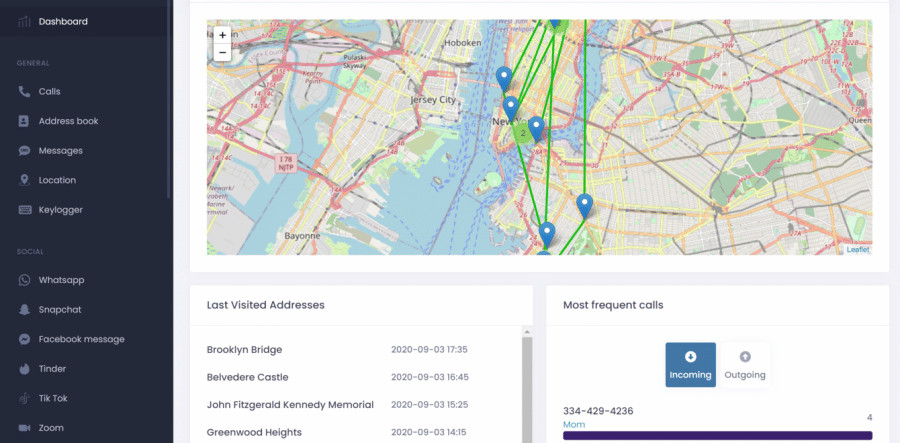 uMobix offers as many features as other spying apps in this article and with comparable service qualities too. You can spy on your boyfriend's location and social media apps (Whatsapp, Snapchat, Facebook, Tik Tok) and check his incoming and outgoing calls history and messages.
Features
View call logs;
Monitor all sent, received, and deleted messages;
Check multimedia files;
Keylogger;
Social media app monitoring;
View or recover deleted messages, calls, and contacts.
Pros
Keylogger
View deleted info
Detailed summary reports on phone activity
Cons
One subscription cannot spy on multiple devices
Want to know more? Check our uMobix review.
The Easiest Way to Spy on Boyfriend's Phone without Touching it for Free
The services offered by the mSpy app aren't free. Therefore, if you don't want to spend extra cash on spy apps to monitor your partner's phone activity, you can go for online websites offering such a service. These websites are the easiest way to spy on your cheating boyfriend.
However, free websites come with a variety of risks. More particularly, you'll risk yours and your boyfriend's devices and data safety.
Some of the associated risks that you might get from using these free online websites for phone spying are as follows:
Information sharing – Since these websites will ask you to provide the information on your target phone, this could mean that you will unknowingly hand over sensitive information to a third party you don't know. Most might also dig into that information to find any possible exploits.
Location sharing – Of course, location-sharing is a common feature among phone tracking applications, but if you're using a free service, that could also mean that you'll be putting your boyfriend's whereabouts at risk.
Malware – Many of these free online websites can also ask you to download a piece of software that might contain malware. As a result, you'll risk any sensitive information on your target device.
Though these services are free and all, they're not the best apps to spy on your boyfriend regarding safety and security.
What to Do if You Ever Catch Your Boyfriend Cheating
If it turns out that you caught your partner cheating, then here are some steps you want to take:
1. Take a deep breath before you confront your partner.
It's easy to fall into the trap of screaming at your cheating boyfriend, but doing so will only worsen things. You can either shower, cry out alone, or give yourself a few moments to digest everything you've learned.
2. Talk with your boyfriend.
At this point, you want to make sure that he cheated. Fortunately, with a phone monitoring app, you can have evidence of his secret affair. Also, make sure to monitor your boyfriend's behavior.
3. Ask for answers.
You should ask why he did that, etc. But as much as possible, try to keep an open mind.
4. Decide if it's a deal-breaker.
You need to decide if your relationship is still worth saving or not. If you do, it's best to seek counsel from a professional therapist before making a final decision.
5. Give yourself time to heal.
If the two of you broke up, it's time to give yourself time to heal. Since you most likely have revealed to him that you installed a tracking app on his phone, you should make sure to uninstall it. This way, you no longer have to obsess about his whereabouts since you're no longer with each other.
Conclusion
mSpy remains our top choice due to its several outstanding spy features-track your boyfriend's social media, browsing history, track SMS and calls, etc. We encourage you to opt for the best spy apps, usually the paid ones over free apps because they offer better features for tracking your boyfriend and at no risk to your personal info.
Can You Track Your Boyfriend with Just Their Phone Number?
Yes. You can track your boyfriend with their phone number if you use Scannero.io for less than $1. All you need do is go to the website and enter the phone number in the box provided and click "locate". You'll be directed to create an account – an affair that takes a few minutes, and you can pay $0.89 for a 1-day trial of the service. 
Once you complete payment, the service will send a text message with a tracking link to your target, and you'll get their exact location the moment they click the link. The target almost always clicks because the message is crafted like clickbait.
How Can I Track My Boyfriend's Phone for Free?
If you use an iPhone, you can use the "Find My" app to track your boyfriend's device for free. However, you have to share their location to your phone, or else it's useless. Google Maps is a better option for either iPhone or Android as it allows you to share the target's location to your Google account for a long time. However, you can never go wrong with a paid app like mSpy to remotely monitor your partner's activity remotely.