How to Jailbreak iPhone (iOS 13+)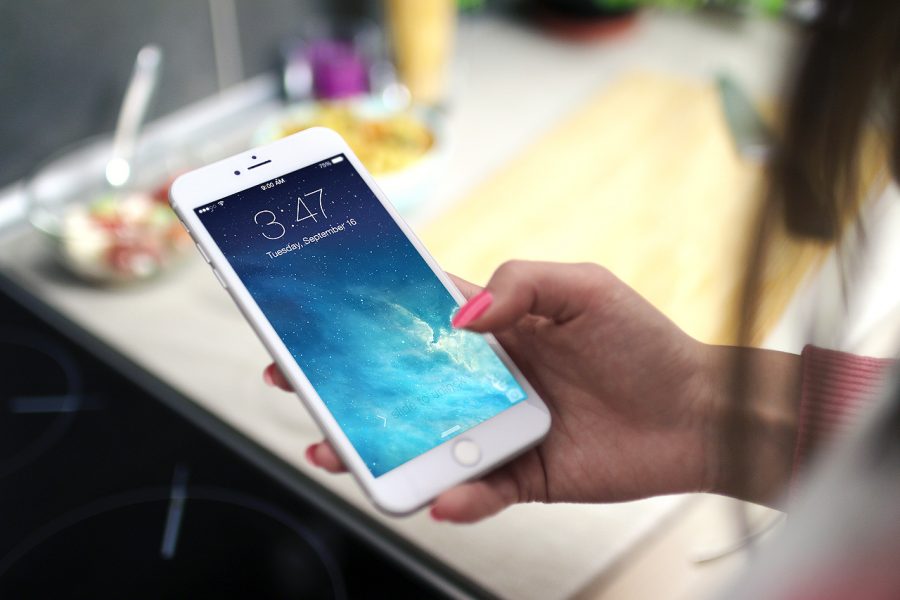 Wondering how to jailbreak an iPhone and why you need it to run tracking apps or perhaps you'd like to install some iPhone spying software? Regardless, you're here because you want to learn how to jailbreak an iPhone – and, we're here to help!
Even though this process might seem complicated, we'll prove you wrong. In this guide, we have covered everything you need to know about jailbreaking. And, it's beginner-friendly.
So, how to jailbreak iPhone?
What is Jailbreaking?
All iPhones come with Apple's own operating system that can be hard to modify due to several restrictions. Jailbreaking allows users to remove these restrictions and enjoy better control by making edits to the filesystem, running unsigned code, etc.
All in all, jailbreaking allows users unfettered app installation and customization. Most people usually jailbreak iPhones but you may also jailbreak other Apple devices including Apple Watch and Apple TV.
This is why a lot of people search for terms like 'how do I jailbreak my iPhone' and 'what does jailbreaking an iPhone do'. In simple words, you will need to use third-party tools like Cydia to jailbreak your iPhone. What jailbreaking basically does is that it adds an unofficial installer to let you download tweaks, extensions, and third-party apps.
Cydia will allow you to get more out of your phone. However, jailbreaking isn't for everyone as jailbreaking your iPhone will not only void the warranty but also put your data at risk. Thanks to incredible Apple security, jailbreaking your phone can be quite tricky, especially if you have the latest version.
However, in this article, we will tell you how to jailbreak your iPhone safely. To begin, let's see what are the different types of iOS jailbreak.
Difference Between Tethered, Semi-Tethered, Semi-Untethered, and Untethered Jailbreaking
Jailbreaking an iPhone requires you to boot your iPhone device. While doing that, three different situations come to light.
Tethered jailbreak: This is one where the iOS device must be connected to a computer for booting the jailbroken device. This creates a sense of restriction because when the connection is lost, the entire process must be repeated.
Semi-tethered jailbreak: This is a situation where the iOS device can boot itself. However, it would no longer have the patched kernel. That means that the modified code cannot be executed.
Untethered jailbreak: Unlike the tethered jailbreaking method, this one doesn't require you to strike a connection between the device and the computer. Only at the initial stages of the jailbreak would you need to connect the device, which means that you no longer need to have a connection when booting the device.
Can You Jailbreak Any iPhone or iPad?
In one word, the answer here is yes!
However, it is a bit tricky because there are so many different iPhone and iPad types and options out there.
Each of the devices has a different set, varied configuration, and separate chips. Hence, it makes it difficult for one software solution to jailbreak all of them.
So, you will likely need to use different software solutions that would work specifically for your iPhone type.
Is Jailbreaking the Same as Unlocking?
No, jailbreaking isn't the same as unlocking. Jailbreaking has more to do with software restrictions.
When you jailbreak your phone, you will be able to perform advanced operations. In some cases, jailbreaking your iPhone may also unlock it but unlocking your iPhone will never jailbreak it as unlocking refers to setting up your phone to make it work on different carriers as some iPhones are set to support a single career only.
Can Jailbreaking Brick My Device?
Your device may stop responding during the process. If this happens, hard reset the phone and it will be back to normal. In case, you still find issues then go ahead and backup the files using iTunes.
However, you have to be careful when installing apps from the new store as they may contain viruses. Running the device in Safe Mode may be a good option. Other than this, you can consider going back to the original firmware.
Is Jailbreaking Legal?
Jailbreaking in the US is legal. However, performing illegal acts on a jailbroken phone can get you into trouble. Moreover, jailbreaking may be illegal in some parts of the world.
Different Jailbreaking Software Options
Checkra1 for iOS 12.3 – 13 – MacOS and Linux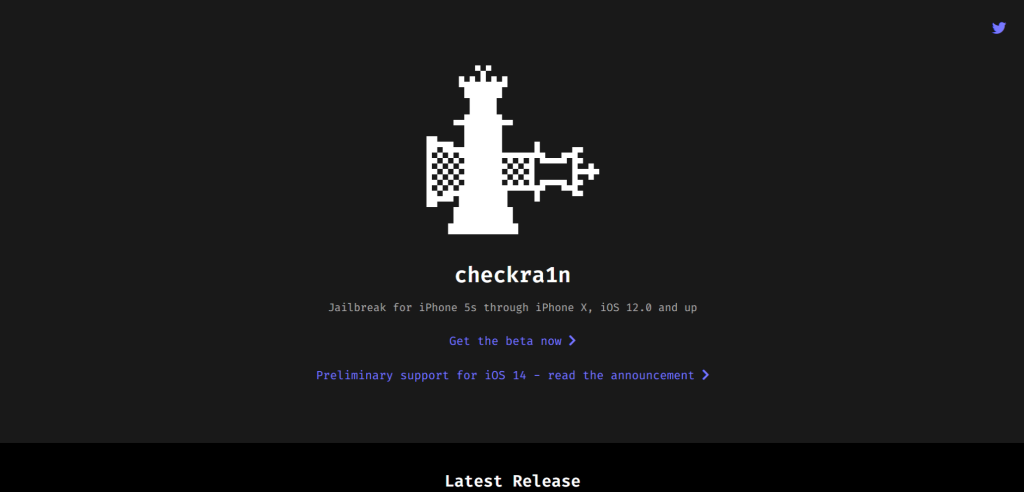 Checkra1n is designed specifically for the macOS and Linux operating systems. As a semi-tethered jailbreak, checkra1 mandates you to keep the device connected. Failing the above, you would need to redo the process of jailbreaking. Unlike other semi-untethered jailbreaks, this doesn't enable booting from an app on the device. Technically, it is based on checkm8, patched on A12, and doesn't support devices on and after A13.
Chimera for iOS 12-12.4 – Windows, macOS, Linux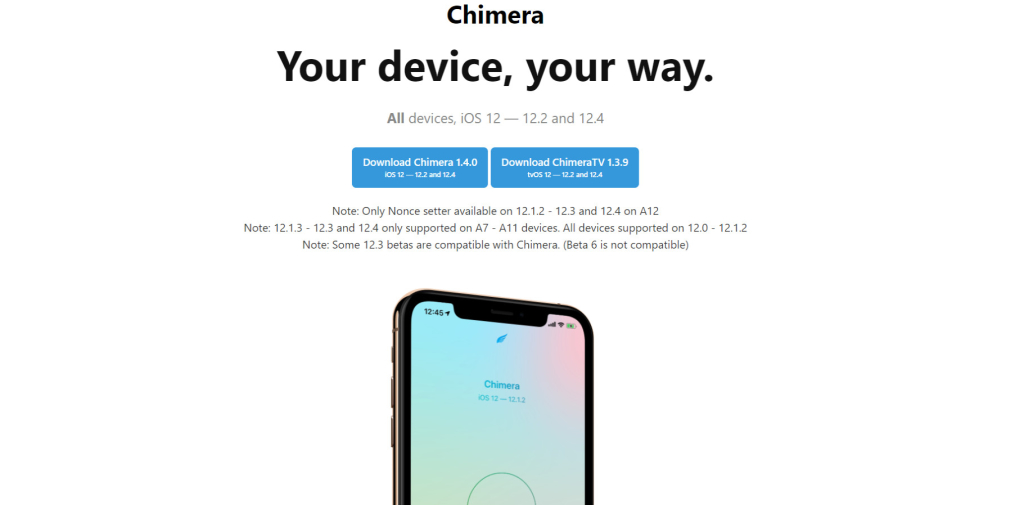 Chimera is another semi-untethered jailbreak software. Similar to checkra1, this also requires you to repeat the process of iOS 12 jailbreak, if you reboot the device. Also in case you face errors while running the app, make sure you reinstall the software using Cydia Impactor ( chimera.sh).
Unc0ver for iOS 11-13.3 – Windows, macOS, Linux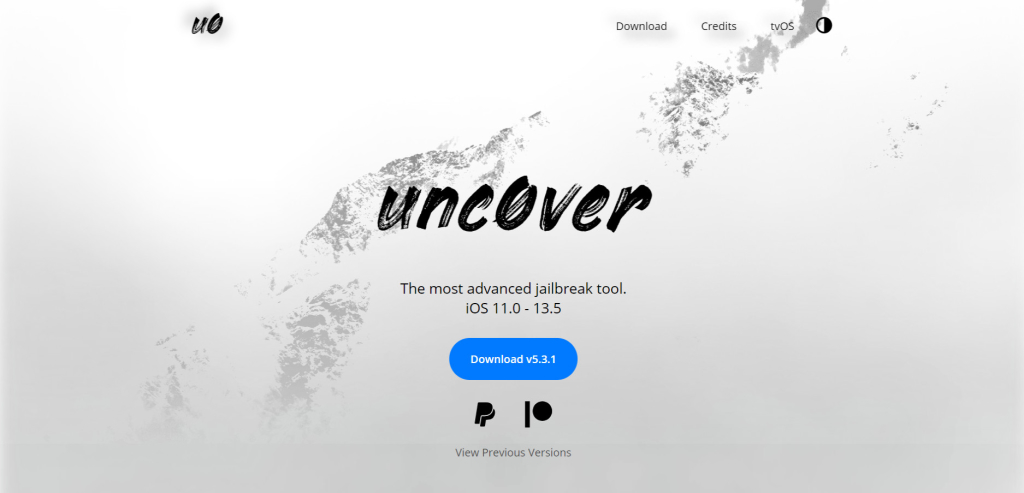 The last on our list is unc0ver. This is also a semi-untethered jailbreak. Jailbreak the device again if it gets disconnected. If the software keeps crashing, you would need to reinstall the same. A major difference between checkra1 and unc0ver app is that the former is semi-tethered and the latter, semi-untethered. Also, checkra1 doesn't allow patches to stay whereas, in unc0ver, patches can be made as and when the Apple software is updated.
You may read more about the latest Jailbreak releases here.
Backing up Your Data and Preparing to Jailbreak
Since jailbreaking your iPhone may cause you to lose your data, it's important that you backup all files before you move ahead with the process. Here's how to do it:
All versions from iOS 7.0 to iOS 13 are supported. If your phone has an unsupported version, you will have to upgrade it or wait for newer software. Moreover, you can go here to verify if your iOS version is supported or not. We have tried it with:
iOS 12.4
iOS 12.3
iOS 12
iOS 13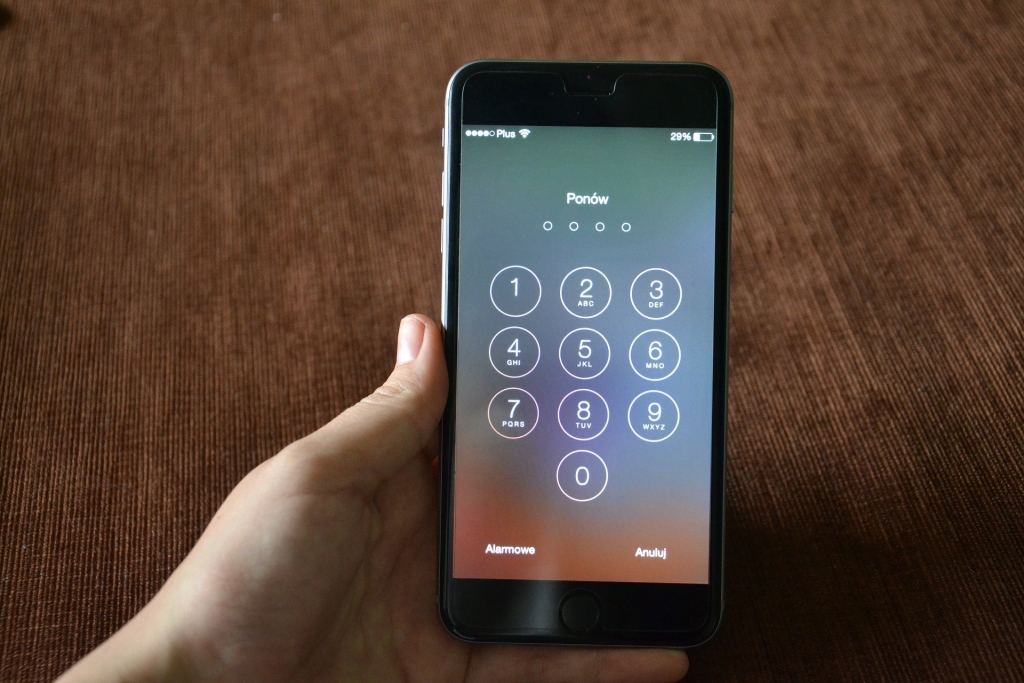 Go to Settings, tap Touch ID & Passcode, enter the required details, and tap Turn Passcode Off. The iPhone will ask you to enter your passcode one more time. Do it and you're done.
Go to Settings, scroll down and tap iCloud, and find the 'Find my iPhone' on your phone. Tap it and turn it off. The iPhone will ask for your iCloud login details to verify.
Older versions of iTunes may not work smoothly. Hence, you should open the software, go to Help and click 'Check for Updates' and download the latest version if available.
Connect the Device to Your Laptop or Computer 
Use the USB cable to connect the device to your computer. Your iPhone will begin to charge once a connection has been made.
You can do it by using iTunes or third-party tools:
Log into your iCloud account, open your phone and click Backup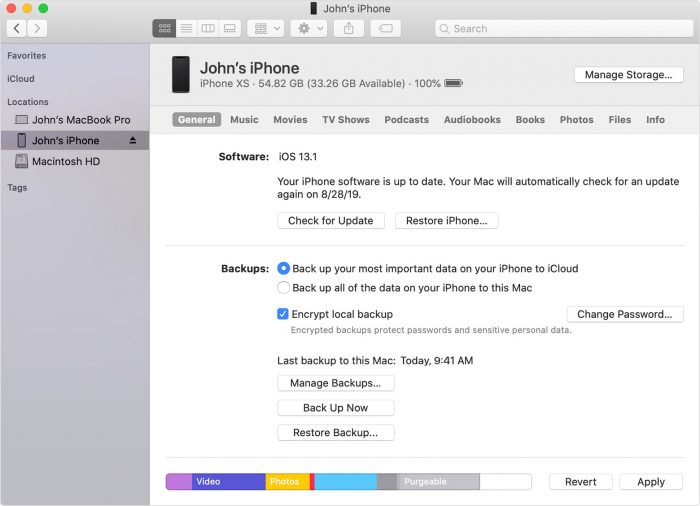 When you want to restore files, repeat the step from above and choose Restore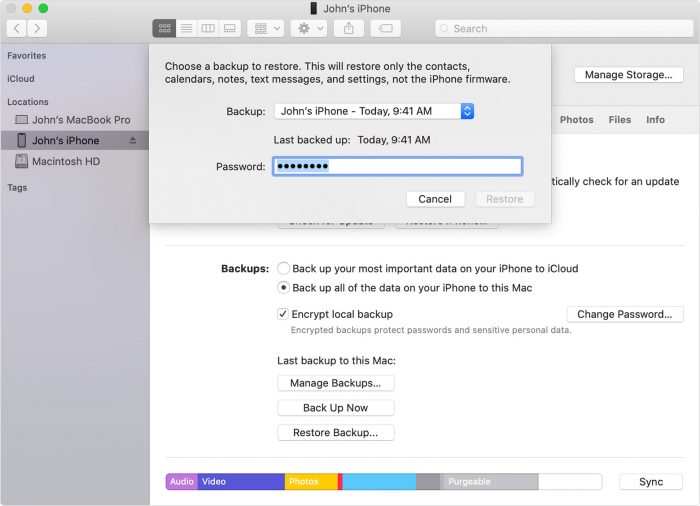 This will ensure Apple restrictions do not prevent you from jailbreaking your iPhone. Here's how you can do that:
Open Settings and locate the Airplane mode option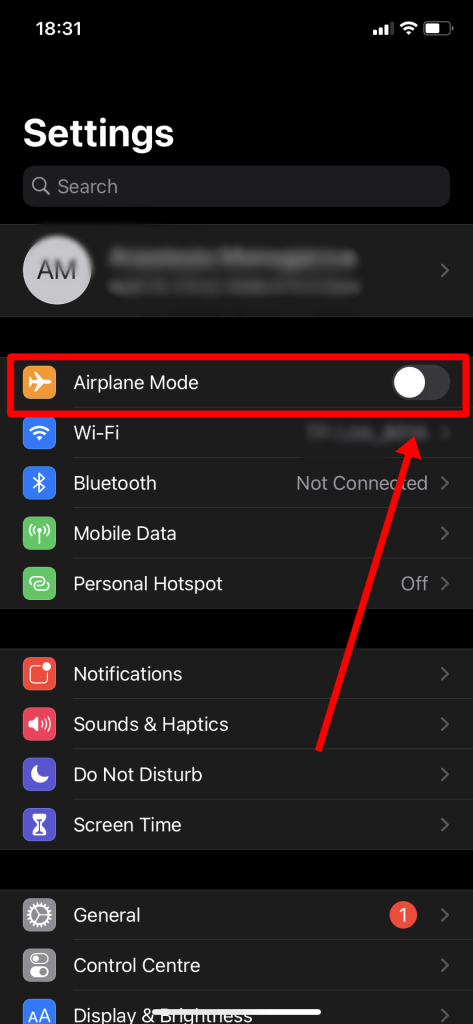 Toggle the button and you'll enter the airplane mode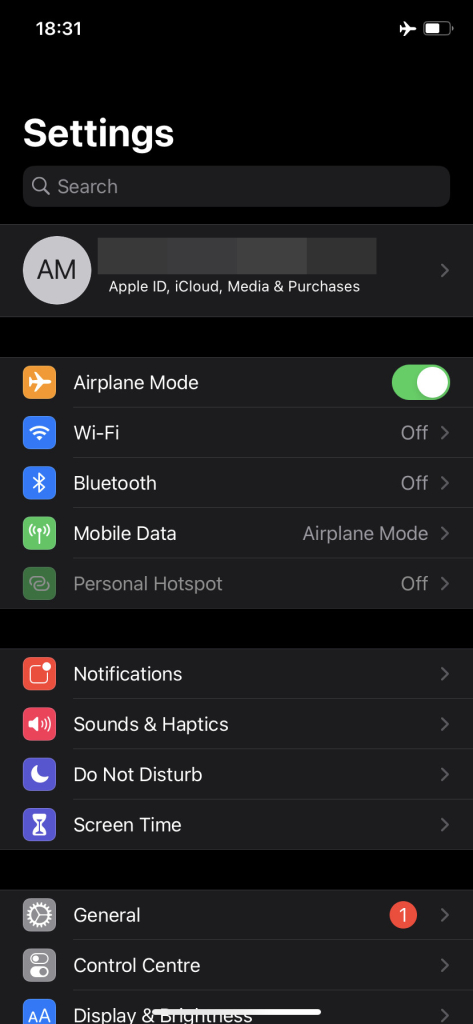 If your phone is eligible, then you can move to the next step and start jailbreaking your iPhone.
How to Jailbreak an iPhone
Before moving ahead, let's talk a little more about Cydia.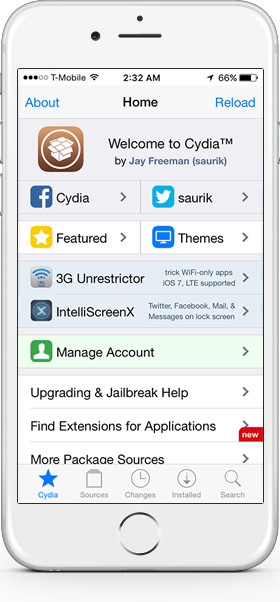 What Is Cydia: Package Manager?
Cydia is a GUI of APT for iOS devices. As it is known that Apple follows a strict policy when it comes to the apps that can be downloaded and installed on the device. To break through the barrier, jailbreaking is an easy way out. This is where Cydia comes into play. It helps users find the appropriate software, download and install the jailbroken device.
In simple terms, Cydia can be defined as an exclusive app store for any jailbreak app. You will find different apps for your device on Cydia including paid and free tools. However, these apps will only work on a jailbroken phone. In fact, you may not be able to access the Cyndia store if your phone is not jailbroken.
Let's now look at the process to know how to jailbreak iPad, iPhone, etc.
New iPhones and iPads including XS, XR, XS Max, and other models do not support jailbreaking. Plus, it may also not work on iPad Air and iPad Mini since jailbreaking only works on devices that use an A17-A11 chip.
If your device is eligible, move onto the next step and download Cydia Impactor. We'll tell you how to use Cydia impactor, hence no worries. Also, download the Undecimus.ipa.
Run Cydia Impactor and connect your device to your laptop or computer.
Find the .ipa you downloaded and drag it into the Undecimus app. It will ask you to enter your iCloud details. Feed those and the software will begin to install.
In the meanwhile, open your device, go to Settings, General, Device Management, and your Apple ID. Now, tab to ensure your device trusts the same email address.
Next, turn on Airplane Mode and turn off Siri. Once done, shut the device down and power it back on.
Once on, you will see the unc0ver app. Open it and once again press the Jailbreak button. This will cause your device to restart.
Once on, repeat the same process and Cydia will get installed on your device.
You will need a computer to perform the process. If you want to know how to jailbreak without a computer then check other articles on this site.
Jailbreaking by Different Categories
Jailbreaking on iOS 13 – iPhone X / XR / 11 / 11 Pro / 11 Pro MAX / SE
To jailbreak iOS iOS 13 – iPhone X / XR / 11 / 11 Pro / 11 Pro MAX / SE, you first need to have the Cydia impactor. You also need to download unc0ver in your device. Thereafter:
Open your Cydia Impactor and then draft a connection between the iOS device and computer Cydia impactor screen.
Be sure that the same has been detected. Next, locate the Uncover IPA File and then drag the same to the Cydia Impactor.
Fill in your ID and password. The file would be effectively signed in and then loaded on the iOS device.
After the process ends, click open your iOS Settings and move to General, click on Profiles.
Trace the app profile. You can do the same with the Apple ID.
Click on Trust and confirm that it changed to the Delete option.
Now disable Siri and tap on the Airplane mode to activate it on your device. Reboot the device and confirm that the device is still on airplane mode with the WiFi switched off.
Now click on the Uncover icon on the homepage.
Click on Jailbreak and then wait till the process ends.
After the reboot completes, you will see a message on the screen stating, "jailbreak successful".
Jailbreaking on iOS 9-12
While the above talked about jailbreaking in iOS 13, we see how to jailbreak if you are using an older version of the driver.
Follow the steps given below to jailbreak iOS 12:
Open the web browser on your iOS ddvi and move to ignition.fun.
In the Search bar, enter unc0ver and search.
Download and install the application once you find it.
Now move to the Settings tab and there click on General and then Device Management. Here, select the name of the developer & Trust the certificate of the app, the one we just downloaded.
Go to the iOS device and click on unc0ver app. Wait for some time and you will soon see the Cydia app appearing on the Home screen
How to enter DFU without the home button
Turn on your Apple device and connect it to any computer or laptop.
Make sure you have iTunes launched and in the running state.
First press the volume + button and then the volume – button.
Now, press the power button and wait until the screen blacks out
Now release the power button and simultaneously press the power and volume – button for five seconds.
Leave the power button and just hold the volume – for another five seconds.
This way, you can enter the DFU mode.
How to Jailbreak the new Apple iPhone XS or XS Max?
Chimera can help you jailbreak the latest devices. The process is simple.
Download the app on your computer, launch it, and connect your device using the USB cable.
You will still need the Cydia Impactor app on your computer. Open it and drag the Chimera.IPA file to the Cydia Impactor window.
Enter your iCloud details when prompted. The software will begin the process.
Go to settings and trust the same email. Make sure to disable Siri, disable password, and enable Airplane Mode.
Restart your device. Once on, open the new app on your device and tap 'Jailbreak'.
Wait a few minutes and you will see the new app store on your device. Done.
Resign Jailbreak Apps
To resign applications once the jailbroken device is active and up for execution, follow the steps given below:
Ensure that the device is still in jailbreak mode. If not, repeat the process mentioned above to jailbreak the device.
After you have confirmed, move to Cydia and there tap on "Sources". Next, click on "Edit" and then, "Add".
In the source option, enter the command as "repo.incendo.ws".This will complete the process.
Now that we have added the repo, you need to search for "ReProvision". Install the same and then click op "Restart Springboard" when you get the prompt.
Next, move to the Safari browser and search for unc0ver.dev website. "Download version 5.0.x" from the site.
 After the download is done, click open the ReProvision app.
You would now be prompted to enter your Apple ID and password.
With this, you can now re-sign applications on the jailbroken device.
How to Remove Jailbreak?
Follow the steps given below to remove jailbreak from the iOS device:
Use a USB cable and connect your iPhone to the computer.
Open Settings, click on iCloud. Here, click on Find My iPhone and then turn it Off.
Enter your login credentials.
Click on iTunes, move to the Devices icon, and choose your iPhone.
Under the backups, select your computer. Backup your device.
Now restore the device and the jailbreak is now removed. 
How to Protect Your Device after Jailbreak?
If you try to jailbreak your device without having a plan, you might end up in a disaster. Not only would be liable to legal actions but more. Hence, there is a need to have a back-up plan in place when jailbreaking your iOS device. There are multiple packages available that allow you to secure and protect your device against uncertainties. Some of the common ones include Activator, BatteryLife, Escapeplan, etc. Depending upon how you want to protect your device, download the appropriate package, and you are set.
Conclusion
Jailbreaking allows you to get more out of your phone. You will receive new permissions and be able to perform restricted operations. The process may sound complicated but it only takes a few minutes to complete. However, remember that Apple doesn't offer official support for Jailbroken phones.