KidsGuard Pro (ClevGuard) Review – Best Android Phone Tracker in 2023
While it's necessary to trust your kids, the vast online world still requires you to be cautious as a parent. That's simply because cyber predators are literally everywhere.
Whether you want to keep an eye on your child's social media activity, track their GPS location, or view their call logs, screen time, browsing history and instant messaging apps, KidsGuard Pro (ClevGuard) has got you covered. It is packed with a wide range of useful features that enable you to monitor your child's online and offline activities without them ever knowing.
In this KidsGuard Pro (ClevGuard) review, we dig deep to find out just how good this parental control app stacks against the pack. We will take an in-depth look at KidsGuard Pro and explore its key features, compatibility, pricing, installation on Android and iOS devices, performance and its pros and cons to help you determine whether it is the best Android phone tracker for your needs.
Ready to get started? Let's dive in!
What is ClevGuard?
ClevGuard is a well-established software company that specializes in developing and providing parental control and monitoring apps for iOS and Android devices to help parents monitor their children's digital activities. They can record phone calls, text messages, social media usage, screen time, monitor browsing history, GPS location, capture screenshots on the target device and more.
ClevGuard's flagship product, KidsGuard Pro, is a comprehensive parental control app that allows parents to remotely monitor their children's phone activities. With KidsGuard Pro, parents can view their children's call logs, text messages, track social media apps and monitor location history. The app also includes features like app blocking, website filtering, and geofencing, which give parents greater control over their children's online behavior.
ClevGuard's products are designed to provide parents with the remote control tools they need to keep their children safe online. Moreover, it only takes a few minutes to buy the subscription and set up the account.
With its extensive features, affordable subscription plans and easy-to-use interface, ClevGuard KidsGuard Pro is a trusted solution for parents who want to keep an eye on their children's digital activities and ensure their safety.
KidsGuard Pro Compatibility
KidsGuard Pro parental control is compatible with both iOS and Android devices. For iOS devices, KidsGuard Pro can be installed on devices running iOS 9.0 or later, including the latest iOS 15. It supports all models of iPhone, iPad, and iPod touch.
For Android devices, KidsGuard Pro spy app supports all devices running Android 4.0 or later, including the latest Android 12. It is compatible with popular brands like Samsung, Huawei, Xiaomi, Oppo, Vivo, and others.
In addition, ClevGuard also has a version to track PCs. And it's actually quite feature-packed for a PC parental control tool.
Below is a table showing the minimum OS versions that KidsGuard Pro currently supports:
It's worth mentioning that KidsGuard Pro doesn't require your phone to be rooted/jailbroken for it to work.
As you can see, ClevGuard spying app is compatible regardless of whether your kids are Android or iOS users. It is also very comfortable to spy on iPhone.
How Does KidsGuard Pro App Work?
The ClevGuard KidsGuard Pro App works stealthily by periodically fetching information from the target device. KidsGuard pro features include:
Photos and videos
App activities
GPS location
Social media app activity
Text messages
Call logs and recordings
KidsGuard Pro works in stealth mode, which means it runs silently in the background without the target device's user knowing about it. This makes it a powerful remote control function tool for parents who want to monitor their children's phone activities, call logs, and precise location without interfering with their privacy.
But every once in a while, it will send newly collected information to the ClevGuard servers. And this is how you'll be able to track it on the dashboard on your own device and monitor all of it.
Though the app works differently depending on OS, KidsGuard Pro dashboard still offers pretty much the same features on iOS and Android phones.
ClevGuard Features
As we've mentioned before, KidsGuard Pro monitoring app is extremely feature-rich. And it really does give you a full 360-degree view of the online activities of the target device's users.
While it has plenty of remote control tracking features, we summarized them into these seven categories:
Location Tracking
Remote Control
Social Apps Monitoring
Call Logs
SMS Monitoring
Web Browser Activity Monitoring
Media Files Access
Location Tracking
The ClevGuard phone monitoring app gives you a detailed picture of the location of your child's device at all times. KidsGuard Pro allows parents to track their children's current location, last known location, view the location history, and set up geofencing alerts when their children enter or exit a specific area.
The locations interface is also very simple to scan through. Though KidsGuard Pro parental control app uses OpenStreetMap, it also provides a link that helps you in tracking a GPS location on Google Maps. This way, you can track the target iPhone or Android on whichever platform you prefer.
Geofence Alerts
ClevGuard's KidsGuard Pro for iOS and Android includes a geofencing feature that allows parents to set up virtual boundaries around specific locations. Geofencing alerts notify parents when their children enter or exit these boundaries, providing an extra layer of protection for their children.
To set up geofencing alerts, parents simply need to log in to their KidsGuard Pro account, navigate to the geofencing section, and draw a virtual boundary on the map around a specific location, such as their home or school. Parents can also set up multiple geofences for different locations.
When their children enter or exit a geofence, parents receive a real-time notification on their KidsGuard Pro dashboard or mobile app. This allows parents to track their children's movements and ensure that they are safe and where they should be.
We must admit that we were impressed with some of the settings that KidsGuard Pro offered here too. And particularly with the following:
Guard Time – This allows you to set the time you want the virtual fence to take effect. You can also specify which days of the week it should be active.
Email Notifications – This is useful if you only want to be notified about activities via email.
1 Km Radius Limit – The app can precisely detect movements within a 1-kilometer radius.
Wi-Fi Location Logging
If your child hardly ever switches on his/her GPS, then the Wi-Fi logger can come to the rescue. But ClevGuard's Wi-Fi Location Logging lets you see a little more.
Other than the location tracking, ClevGuard wi-fi logger will also let you monitor details such as:
The Wi-Fi signal's SSID
The start and end time of a Wi-Fi session
The total duration on the Wi-Fi
Combined with the other features this spy app offers, this data can be crucial in a number of ways. For instance, the SSID alone may give you a clue about the specific place your child usually hangs out.
In addition, from the duration, you can tell how long he/she spent there. And this can help determine whether to stay cool or raise your guard even further.
Remote Control
KidsGuard Pro's new remote control features let you perform all manner of stealth-mode operations on demand on the target device. The three advanced features it offers here include:
Record Phone Calls
Take Photos
Capture Screenshots
Call Recording
It's often easy for people to confuse the call recording feature with call logging. Sadly, KidsGuard Pro's idea of remote call recording seems a bit skewed.
Essentially, KidsGuard Pro's call recording feature simply records calls automatically then saves them as hidden sound files.
These files are then uploaded to ClevGuard's servers so that you can listen in on the conversations from your dashboard.
NOTE: The app can only record 20 minutes of calls at a time.
Screenshot Capture
On the other hand, the screenshot capture feature truly lives up to its word. With it, you can take real-time screenshots of what's happening on your child's mobile phone screen at any given point in time.
This feature can be super helpful in situations where your child's mobile phone is missing or has been stolen. However, it does come with one major caveat.
For ClevGuard to successfully capture screenshots, the target device's screen needs to be unlocked.
Photo Taking
This feature also works similarly to the Screenshot Capture feature above. The only difference is that it'll be taking photos using the camera on the target phone.
By tapping on the "Shoot" button, ClevGuard will secretly take a photo and upload it for your view. But there are a few constraints here too:
The feature cannot be used when the camera is occupied.
Only the rear camera can take these photos.
The phone shouldn't be in a pocket/bag.
While they all seem like genuine constraints, we believe ClevGuard could have done more.
For instance, the app could use sensors to determine the best time to take a photo. However, users are left to guess a suitable time to take a photo using the feature.
Social Apps Monitoring
ClevGuard still outshines many parental control apps by supporting monitoring for several social media apps.
Though we'll only discuss Messenger and WhatsApp, ClevGuard can also monitor these popular apps as well:
Snapchat
Instagram
Line
KIK
Facebook
Tinder
Viber
Telegram
You can easily access all these features to read chats by clicking on "Social Apps" in the left sidebar menu on your dashboard.
It's also worth saying that this is one of ClevGuard's biggest remote control features. And this makes sense since most kids communicate via social media apps nowadays, making it essential to monitor and track them.
WhatsApp
ClevGuard spy app can enable monitoring WhatsApp on the target phone by accessing incoming notification messages. This is perhaps what allows you to use the app without root/jailbreak, so you can easily monitor your kids' chats with all the contacts on their list.
But on the other hand, KidsGuard Pro uses its keylogging feature to record outgoing messages as well. In some cases, the app also simply took screenshots of the full WhatsApp application so that we could read them later.
Messenger
The same operation is still carried out on Messenger too. KidsGuard Pro relies on its keylogger and screenshot to record activities taking place on Messenger.
However, the app did not always capture every activity on Messenger. There were a few instances where it simply took a screenshot too early.
Call Logging
KidsGuard Pro can help out if all you need is to monitor incoming or outgoing phone calls. In fact, apart from recording the name and phone number of the caller, it also captures:
The date of the call
The duration of the call
The type of the call (incoming, outgoing, missed)
With KidsGuard Pro, you will be able to track all incoming and outgoing phone calls including the names, timestamps, and call duration.
The address book is also one of the features that goes hand in hand with call logging. This way, you can see all the contacts on the target device. KidsGuard Pro actually displays the names of callers in the call log because it has access to the contact book.
SMS Monitoring
SMS may be growing out of fashion, but that doesn't stop KidsGuard Pro from including SMS monitoring as a feature.
From the dashboard, you can get a complete report on your kid's SMS activity so that you can read them all. What's more is that KidsGuard Pro organizes the information in a conversation view, making the process of monitoring them easier.
This makes it super easy to skim through details like the names and numbers of the contacts who sent the messages or even the timestamps too.
Web Browser Activity
KidsGuard Pro for Android and iOS leaves nothing unturned. And its web browser history monitor is a true testament to that.
With plenty of distractions online, it's easy for your child to access harmful websites. But KidsGuard Pro helps you stay on top of it all by providing a list of all websites your child visited as part of their browser history or whatever they've searched for on Google.
The app even goes ahead to include information such as:
Site's URL
Name of site
Last time visited
Frequency of visit
In addition, you can still monitor your child's deleted web history. This leaves very little room for any kind of dishonesty between you and your child.
NOTE: ClevGuard can't access deleted browser history prior to installation.
Media Files Access
KidsGuard Pro child monitoring app grants you unlimited access to your child's mobile phone files like Photos and Videos. As such, you'll see their media files in almost real-time.
While the app will only upload newly taken media files, the way it does it is also amazing too. With KidsGuard, you'll not only view photos and videos, but also browse the media folder to monitor all other phone files stored on the device.
Regardless, we must confess that the experience was not always that great. This is especially true if the target phone has lots of huge media files.
The app also only uploads pictures when there's internet connection. Plus it won't download a full video but rather a preview of the video.
ClevGuard Pricing
First off, ClevGuard KidsGuard Pro for Android and iOS has a simple and straightforward pricing plan. And it mostly depends on the device you'd like to monitor as you can see in the table below.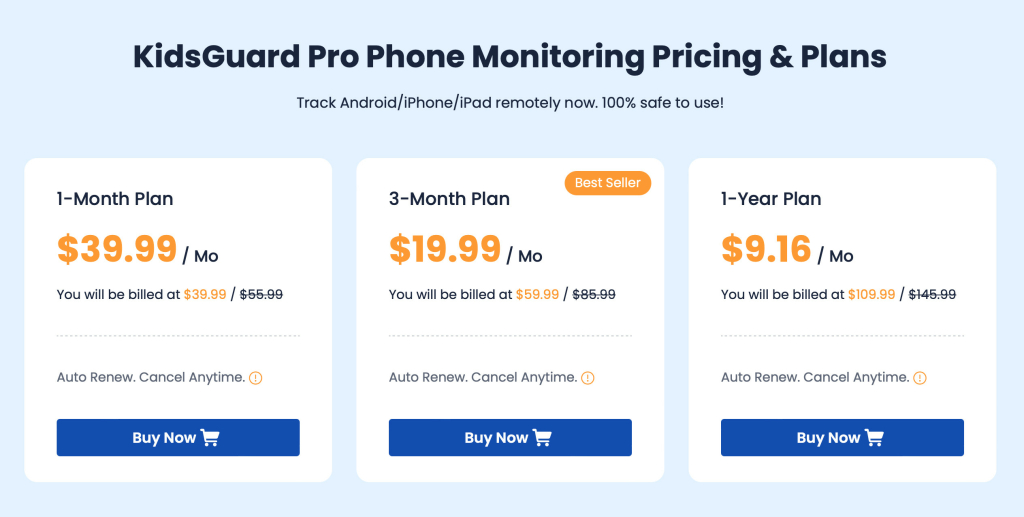 We found the ClevGuard pricing plan far more generous than many other parental control apps. No single plan crossed the $150 mark even in the annual subscription!
KidsGuard Pro Installation & Setup
Installing the app is a breeze. And it just goes to show how far parental control apps have evolved over the years.
ClevGuard promises an easy five-minute installation for KidsGuard Pro. This is partly due to their easy-to-follow instruction videos for and .
But we'll still go ahead and show you how we did it for both operating systems.
Installing KidsGuard Pro on Android
There are 4 main steps to follow when installing KidsGuard Pro on a target Android device. These are:
Part 1: Create a free account and pick a subscription of choice
Part 2: Download and install KidsGuard Pro on the target device
Part 3: Complete necessary settings on the target phone
Part 4: Verify setup and start monitoring
Part 1 – Create a Free KidsGuard Account
Before you can start monitoring your child's phone, you'll need an active KidsGuard Pro subscription. You can get one by doing the following:
Step 1: Navigate to ClevGuard website and click on the "Monitor Now" button to register for a free KidsGuard Pro account.
Step 2: Key in your email address and set a password you'll use to login then click the "Sign Up" button.
Step 3: Once completed you'll be redirected to a page where you can purchase a subscription plan of choice.
Step 4: Complete the payment to get an active subscription plan.
Part 2 – Download and Install KidsGuard Pro on Target Phone
You'll now need to access the target device and then install KidsGuard Pro so that you can monitor their activities remotely. Here's how to get started on that:
Step 1: Open any browser on the target device and type in the download link that's on KidGuard's setup wizard.
Step 2: Follow instructions on the page to download KidGuard Pro's APK file which you'll be installing shortly after.
Step 3: Once you've downloaded the APK, tap to open it then select "Install" to begin installation.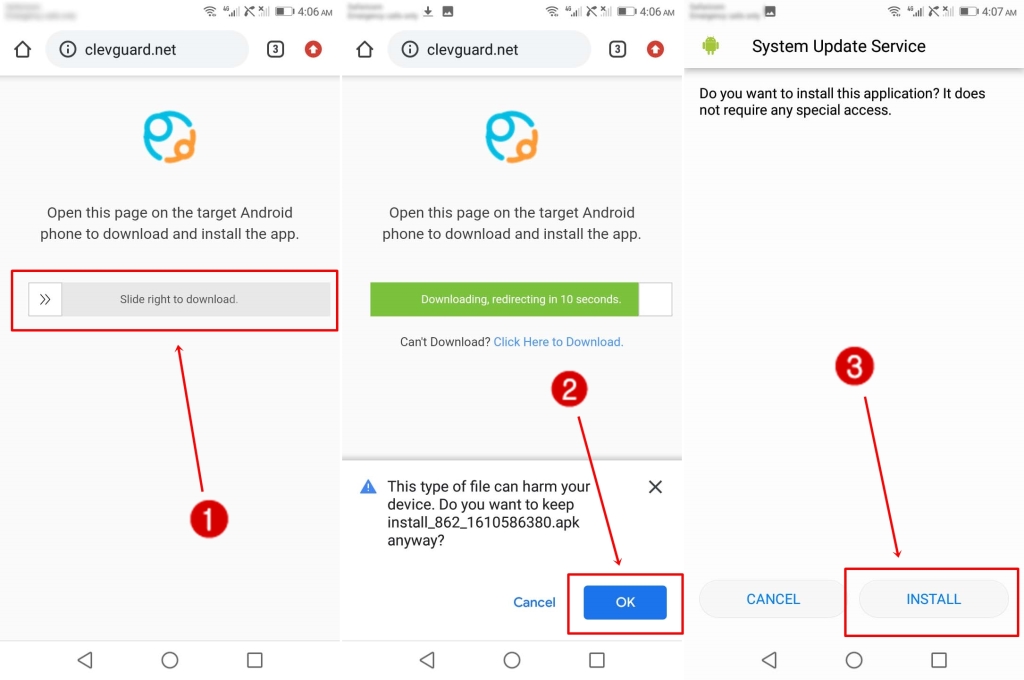 Step 4: Depending on your Android version, you may be asked to allow app installation from unknown sources. Tick the checkbox to proceed with the installation.
Step 5: Accept KidsGuard Pro's Privacy Policy then you'll be taken to the login page. Key in your credentials to log in and begin the setup wizard.
Part 3 – Complete Necessary Settings on Target Phone
There are still a few settings you need to complete before you get started. Luckily, KidsGuard Pro guides you through the entire process after logging in.
Step 1: Proceed to enter the name and age of the child then press Next.
Step 2: KidsGuard Pro will now ask you to disable Play Protect so that it cannot be flagged by other security apps. Click on "Proceed Settings" to disable Play Protect.
Step 3: On the Play Protect screen, tap on the little gear icon on the top-right part of the screen.
Step 4: Disable both options: "Scan apps with Play Protect" and "Improve harmful app protection".
Step 5: Tap on "Proceed to Settings" to activate accessibility. You will find System Update Service Under Accessibility. Change the status from off to on.
Step 6: Tap on "Proceed to Settings" again to proceed to activating App Supervision.
Step 7: Under Apps with usage access, tap on System Update Service then check on "Permit usage access".
Step 8: Proceed to provide Notification Access permission to KidsGuard Pro by tapping on "Proceed to Settings" once more.
Step 9: Tap on System Update Service under Notification access to enable System Update service. Press "Allow" on the popup.
Step 10: Proceed to Activate Administrator Access by Tap on "Proceed to Settings" and pressing "ACTIVATE".
Step 11: In the next step, you will Activate Screen Capture by taping on "Proceed to Settings". After that, tick the checkbox that says "Don't show again" and press "START NOW".
Step 12: Press "Allow All" to give KidsGuard Pro with access to Messages, Contact, Call Log, Calendar, and Location.
Step 13: Proceed to Ignore the Battery Optimization warning by tapping on "Allow" in the popup that follows.
Step 14: Tap on the "Proceed to Settings" button once more to enable manual management of KidsGuard Pro app.
Step 15: Complete the last setup by locking KidsGuard Pro from being closed by the Android OS.
Part 4 – Verify Setup and Start Monitoring
Finally, if you have followed all the above steps correctly, tap on "Start Monitoring" to monitor the target device remotely from your KidsGuard Pro account.
Installing KidsGuard Pro on iOS
If your kids are iOS users, things differ a bit. But the good news is that this also makes the installation process much simpler. However, iOS devices come with a few unique requirements too.
Requirements
Physical access to target iPhone
iCloud account credentials of target iPhone
Step 1: Create a Free Account and Choose a Subscription
Begin by creating your free KidsGuard Pro account and choosing one of the three premium options after clicking the Buy Now button.
Step 2: Download the Software To the Target PC
It is not compulsory to have physical access to the target iOS device if you opt for KidsGuard Pro for iCloud.
You can simply install KidsGuard Pro remotely if you have their iCloud credentials. Also, make sure that the iCloud backup is turned on!
In the KidsGuard Pro for iOS, you need to have physical access to the iPhone to install KidsGuard Pro.
Step 3: Scan Data From the Target iPhone
Once the setup is complete, data will begin to stream in within minutes from the respective apps you wish to.
Step 4: View Information From the Target iPhone
You can view and monitor the information from your loved one's or child's iPhone through the neatly arranged and easy to use dashboard on your web browser.
KidsGuard Pro has provided a search bar to search for information quickly in all the segments other than pictures and Videos.
Pros and Cons of KidsGuard Pro Monitoring App
Pros
Comprehensive Monitoring: KidsGuard Pro offers a wide range of features for monitoring all the data on the target device, including call logs, text messages, social media, GPS tracking, a detailed review of harmful apps and more.
Remote Access: Parents can access the app remotely from their own devices, allowing them to monitor their child's activities from anywhere – no jailbreak or root required.
Almost undetectable – KidsGuard Pro parental control app operates in stealth mode, which means it can run invisibly on the target device without the child knowing.
Real-time Alerts: The app provides real-time alerts for certain activities, such as when their children use specific apps or when they receive messages from certain contacts.
Affordable Subscription – If you get a one-year subscription, you can pay as little as $9.16 a month! That's nothing if you have peace of mind knowing your kid is safe.
Simple to use – Installing KidsGuard on both Android and iOS devices could not be easier! The set-up process requires only a few minutes and then you can see exactly what your kids do on their phons!
Cons
Limited Compatibility: While the app is compatible with both Android and iOS devices, it may not work on some older or less common devices.
Legal and Ethical Concerns: Monitoring a child's mobile phone activities without their knowledge or consent can raise legal and ethical concerns, and may be viewed as a violation of their privacy.
Dashboard UI/UX can be improved in some sections.
KidsGuard vs KidGuard: Which One Should You Choose?
If you've come across an app called "KidGuard," you've possibly wondered if it's the same as ClevGuard's KidsGuard. The answer is no. KidGuard was launched in 2016 as a parental control app designed to help parents monitor their children's phone activities. However, the company faced controversy after it was revealed that KidGuard had marketed its app using fake reviews and endorsements from popular websites and blogs.
Additionally, KidGuard was accused of misleading customers by claiming that its app could monitor a child's social media accounts, even though it did not have the necessary features to do so. The app itself no longer exists along with its website being non-functional.
So, there's pretty much no comparison between the two apps. If you want a great tracker for Android and iPhone monitoring for an affordable price, KidsGuard should be your top choice.
Is KidsGuard Pro Detectable?
No. KidsGuard Pro is a non-intrusive parental control app. It runs in stealth mode, and your child will hardly notice that you are monitoring their phone.
Once installed, the app icon disappears and it also doesn't show in the app drawer list. As such, it's almost impossible for them to detect the app while it's tracking their activities.
Is ClevGuard Legal?
All legal prerequisites for using ClevGuard's services, including the KidsGuard application, are an integral part of the Terms and Conditions that can be found on ClevGuard's site.
This software is designed only for monitoring your kids (your own legal kids who are younger than 18) who are using your devices.
The user must agree to comply with local laws and regulations, as well as obtain written permission and rights to install the application on a device not owned by him.
KidsGuard Pro is made precisely for legal guardians of underage smartphone users. Parents can therefore use it to monitor their children's activities.
Can KidsGuard Pro Let You View Deleted Browser History?
Yes. KidsGuard can monitor deleted web history. And what's more, is that it will also reveal other details such as date of visit and the frequency as well.
But it's important to note that the KidsGuard Pro won't track web history that was deleted before you install it, so you won't be able to monitor it.
Do I Need to Root/jailbreak My Phone to Use KidsGuard Pro?
No, there is no need to root your child's mobile phone before using KidsGuard Pro app for monitoring on their Android phone.
The same applies for iOS devices too. You won't need to jailbreak their iOS device as you can install KidsGuard Pro remotely.
Can You Install KidsGuard Pro Remotely?
For iOS users, remote installation is a breeze. The only requirement is that you have the iPhone's iCloud credentials and you can install it in a matter of minutes.
But Android users are not so lucky though. A one-time physical access will still be necessary if you want to install KidsGuard Pro for monitoring an Android device.
KidsGuard Pro Review Final Verdict
In conclusion, KidsGuard Pro is a highly effective and comprehensive parental control app for Android and iOS devices. It offers a wide range of features to help parents monitor and manage their children's phone screen activities, including GPS location tracking, calls, SMS, text and social media messages monitoring, viewng the browser history even in incognito or private mode, and more.
KidsGuard Pro can also record phone calls, track your child's location history, and send real-time alerts. Unlike most spy apps, KidsGuard Pro has a 24/7 customer support, so all of your questions will be answered right away.
In addition, not many spy apps have an abundance of features that work without root/jailbreak. But ClevGuard's KidsGuard Pro does it effortlessly.
Another standout feature of KidsGuard Pro is its ease of use and user-friendly interface. Even parents with little to no technical expertise should be able to navigate the app and access the various monitoring and management tools available.
KidsGuard Pro offers excellent value for its price, especially when compared to other parental control apps on the market. For as little as $9.16 per month (on a one-year subscription), you will always know what your kids are doing on their devices. Before signing up to a long-term membership, we recommend trying out KidsGuard Pro for a month to see if it meets all your requirements.
All in all, we were impressed by the KidsGuard app's holistic approach to child tracking and monitoring in our review of it. KidsGuard Pro App definitely focused on getting the essentials at your disposal and is an excellent choice for parents who want to keep tabs on their child's phone activities and ensure that they are safe and responsible online.
It's easy to set up and it also delivered on most of its promises. And all that easily makes it one of the best Android phone trackers in 2023 to monitor your kids. We hope you enjoyed our phone tracker reviews.