SecureTeen Review: All You Need to Know Before Purchasing It
Children don't have enough experience to protect themselves online. That's why parents should make sure their kids do not visit unsafe websites, use potentially harmful services, or download unwanted content.
SecureTeen ensures a sophisticated cell phone monitoring, and parents can be sure that their kids are safe.
The following SecureTeen Parental control review will shed light on this monitoring application.
What is SecureTeen?
SecureTeen is a monitoring application designed explicitly for parental control. After installation on a child's device, it provides their parents with remote access to this device.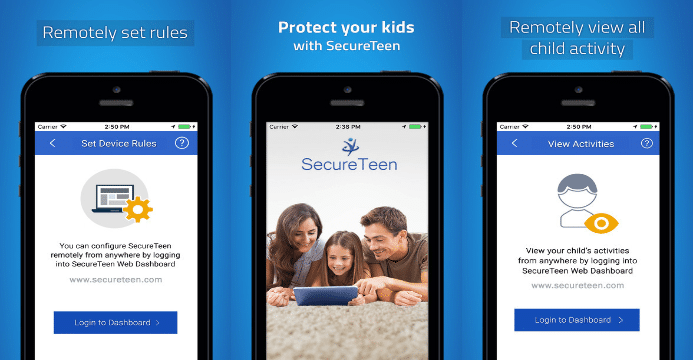 With its help, a user can know everything about his child's SMS messages, GPS location, web searches, activities on social media, etc. They can also manage the target device remotely and react timely if the phone is stolen or lost.
Installation is quick and easy.
Operates in stealth mode, no pop-ups on your child's phone.
Monitoring and blocking are made easy.
You can track up to three devices at the same time.
Moderate price.
Cannot open audio and video files on a target device.
It cannot set a time to lock a target device, unlike many other parental controls.
Some features do not work on iOS.
Compatibility
You can use SecureTeen with the following platforms:
Windows 7 or later
Android 4.0 and higher
iOS 9.0 and higher.
SecureTeen Key Features
Secureteen For Android Monitoring
✅ Monitoring Facebook activities – SecureTeen can protect your children from communicating with strangers online and sharing personal information. The app gives you the ability to see every move of your kid on Facebook.
✅ Tracking SMS messages – be aware of all SMS messages that your kid sent or received. The app sends all copies of SMS messages to your online panel, and you will be able to view them at any time;
✅ Blocking inappropriate content – SecureTeen helps parents to prevent their kids from watching adult and harmful content. You will be able to block mature websites and all web pages which contain inappropriate information;
✅ Tracking web browser history – this spyware monitors all websites and creates a list of URLs. Detailed logs with all their URLs. You may access it from any device and check the whole web history with all details;
✅ Tracking current GPS location – with the help of this powerful monitoring feature, you can always be aware of your kid's place. You will be able to track every movement of your kids and help them if they get in trouble.
✅ Limiting screen time – Set timeouts for your target devices. If your child keeps the screen active for too long, it will switch off automatically for a while.
✅ Keylogger (Android only) – You can view the records of which keys were tapped when visiting certain websites.
Secureteen For iOS Monitoring
Besides those functions which were mentioned above, if you are going to track an iOS device, you will be able to:
✅ Track phone calls – monitor and view all details about outgoing and incoming phone calls of your kids. You can get access to names and numbers, date and time logs;
✅ Monitoring social media – SecureTeen tracks all activities of the owner of the target device on social networks and messengers. Find out all details about KIK, Viber, and WhatsApp activities;
✅ Spying on Skype and LINE – be aware of all activities of your kid on Skype and LINE with the help of spyware.
Computer Monitoring
There are also special monitoring features which you can use when tracking target computers:
✅ Safe search – SecureTeen spy app provides special filters which can prevent your child from adult and harmful content and search results;
✅ Filtering Internet activities – if you are a user of SecureTeen, you can keep pornography and other unwanted content away from your children. Set up filters and you can be sure that no single inappropriate web page will be shown to your child;
✅ Blocking unwanted apps – if you think some app is suspicious or don't want your child to spend too much time on it, you don't have to find and delete unwanted software or application it from your kids' devices. With the spy app, this process is much more comfortable. You should add any unwanted apps to the block list, and that's all. The app SecureTeen will do the rest of the work.
How Does SecureTeen Work?
After you install this app on the parental device (that is, the one you will be used for monitoring and control), you can register a target device (i.e., your child's phone or tablet) on its dashboard.
After that, you will be guided through the installation process on the target device – and it's done! You can now access your kid's device from your SecureTeen dashboard at any time.
All user activities on the target device are visible for you now, as well as the messages and browsing history. Moreover, you can take action yourself by blocking dangerous resources or limiting screen time. Also, SecureTeen shows you the location of the target device. Just keep in mind that it must be online so that you could access it.
How to Install SecureTeen
Follow these steps to install SecureTeen App on Windows:
Sign up on the SecureTeen's official website and make a payment. Use the code they will send you after the payment gets processed to activate your account.
Download the installer from the official website and run it on your PC as an administrator.
Click 'Yes' to start the installation. When prompted, input the username and the password you've set when signing up.
Complete the installation. You might also need to restart your PC after it is over so that the app is fully functional.
Launch the app, go to the dashboard, and configure your child's profile to start monitoring.
Follow these steps to install SecureTeen App on Android:
Repeat Step 1 from the previous instruction.
Take your child's device ("target device") and make sure it has a stable internet connection.
Go to GooglePlay and search for "SecureTeen Child App."
After you've found it, tap on "Install." In the new window that opens, allow access to the OS and tap on "Install" again.
After the app is successfully installed, launch it, and enter the verification code.
Activate the app, allowing access to all system functions you need to control (like Messages)
After the app is fully configured, tap on "Finish." Now you can monitor this Android device remotely.
Follow these steps to install SecureTeen App on iOS:
Repeat Steps 1 and 2 from the previous instruction.
Go to AppStore and search for "SecureTeen Child App."
After you've found it, start the installation, enter the verification code you've received after completing Step 1 when prompted, and tap on "Install SecureTeen Profile."
Proceed with the installation, tapping on "Allow" and "Install" whenever prompted.
When asked to check the MDM profile, tap on "MDM Profile Status": it should say "successfully."
Tap on "Install Child App" then on "Install" again.
After the installation is completed, launch the app and tap on "Allow" for all the system functions you need to control on this target device.
Sign in with your username and password. Now the app is ready, and you can monitor this iOS device remotely.
How Much Does SecureTeen Cost?
Significantly, such a spy app as SecureTeen provides services for quite an affordable price.
Currently, there are two pricing plans available:
SecureTeen Premium
Price: $39.99 per 1 year
Allows tracking up to 3 devices simultaneously. Available on Windows, Android, and iOS.
All basic functionality is present. Mainly, you have access to Line, WeChat, and Hike logs. Picture logging is not available.
SecureTeen Premium Plus
Price: $69.99 per 1 year
A particular plan for Android users with some extra features available. With this plan, you have access to Facebook Messenger, Skype, Instagram, WhatsApp, and Snapchat on target devices. Picture logging is also available.
So don't hesitate! Choose SecureTeen, and you'll get sophisticated and reliable monitoring for a reasonable price.
Conclusion
After reviewing the app, we've come up with the conclusion that although it presents itself with a wide variety of features, the app is still considered to be outdated.
Additionally, after reviewing several reputable app resources, we have come up with the following list of complaints about this app:
SMS logs are not updated regularly on some devices;
Some users report about unneeded blocks and restrictions they did not set;
The help section is not entirely comprehensive;
Customer service does not respond quickly;
Getting a refund might be difficult;
Uninstallation is difficult.
Currently, we can't recommend SecureTeen as the best phone number tracker app and claim that it's 100% the right choice. As a concerned parent, you should thoroughly examine available monitoring tools or any related spy apps before choosing the one most appropriate for you.