Glassagram Review – How Good is This Instagram Viewer?
What if I told you that you could anonymously view someone's Instagram posts & stories, by just installing a small app on their phone? That's where Glassagram comes in – it lets you download someone's stories & posts for free, without them knowing.
But, is Glassagram worth the price & your time? On top of that, does it steal user data as some other spy programs do? We find out all about that today.
In this comprehensive Glassagram review, we'll reveal how well Glassagram performs in different aspects like user privacy, accuracy, data upload frequency, price value, and many more. By the end, you'll know exactly if Glassagram is the right fit for you.
That said, let's dive in.
Quich Review
Our rating
8.5/10
Compatibility
Android
Live Demo/Free Trial
Yes
Key Features
Tracking Instagram anonymously
Viewing private Instagram accounts
Accessing direct messages
Jailbreak/rooting required
No
Link
Learn here
What is Glassagram?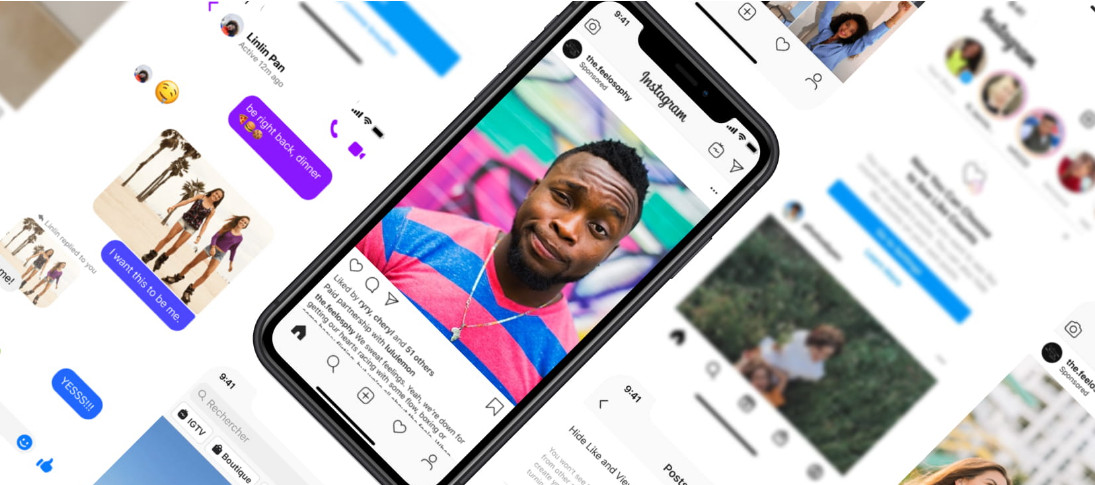 Glassagram is an Instagram monitoring app that lets you view someone's Instagram stories without them knowing. It's a popular anonymous Instagram story viewer to view personal accounts without the target person knowing.
Moreover, you can also download Instagram stories using Glassagram as well as spy on the target's direct messages. Other than that, it also lets you get target device information in real-time. Glassagram doesn't require you to download a phone tracker app for it to work – you can do everything from an online dashboard.
If you're looking to track someone's Instagram stories anonymously, Glassagram is a great way to go.
How Does Glassagram Work?
Glassagram is primarily an online tool that you can use to spy on someone's stories anonymously and download them on your device, for free. All of this is possible via the Glassagram dashboard.
However, you'll need a premium Glassagram subscription and will have to install its app on the target's phone to unlock advanced features like:
Accessing direct messages, and
Tracking someone's Instagram anonymously.
Here's an overview of the procedure:
Step 1: Sign up at Glassagram, pick a plan, and log in to your account.
Step 2: Install Glassagram on the target smartphone.
Step 3: Start monitoring the personal account of the target person, from Glassagram's online dashboard.
Glassagram Compatibility
If you're looking to use Glassagram's free version, having access to a desktop device with a browser is enough. This is because Glassagram's basic version only requires you to use its online dashboard to download someone's Instagram stories anonymously.
However, if you opt for a paid plan, you'll have to install Glassagram on the target device. Regarding smartphones, Glassagram only supports Android phones, unfortunately. However, note that devices running Android 4 and above are compatible with Glassagram.
When you install Glassagram on an Android device, you'll still need to access the Glassagram interface through a browser. So, having access to a stable internet connection is a must.
Compatible With: Android phones running OS 4 and above.
The Free Version of Glassagram Anonymous Instagram Story Viewer
Glassagram offers a free version that you can access right away from its website.
1. On Glassagram's official website, click Try Now.
2. Enter your email address and tick the box to create a free account.
3. Now, enter the target person's username or complete web address (https://instagram.com/username/).

4. Then, click Watch Now.
5. Glassagram takes a while and runs some commands.
6. When the account is recovered, click Go to Account.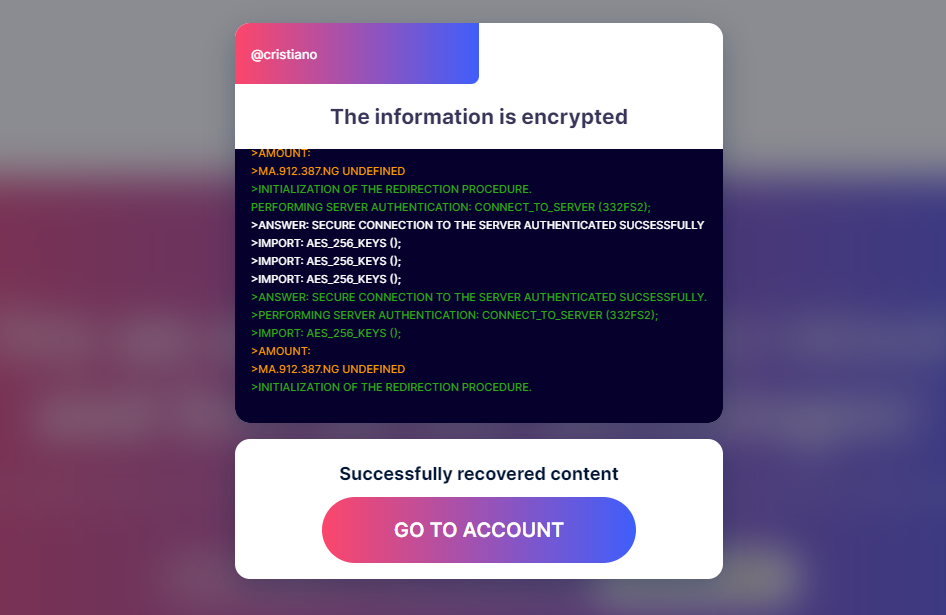 7. Here, you can see the target's Insta stories, posts, and profile that they only share with their followers, without them knowing.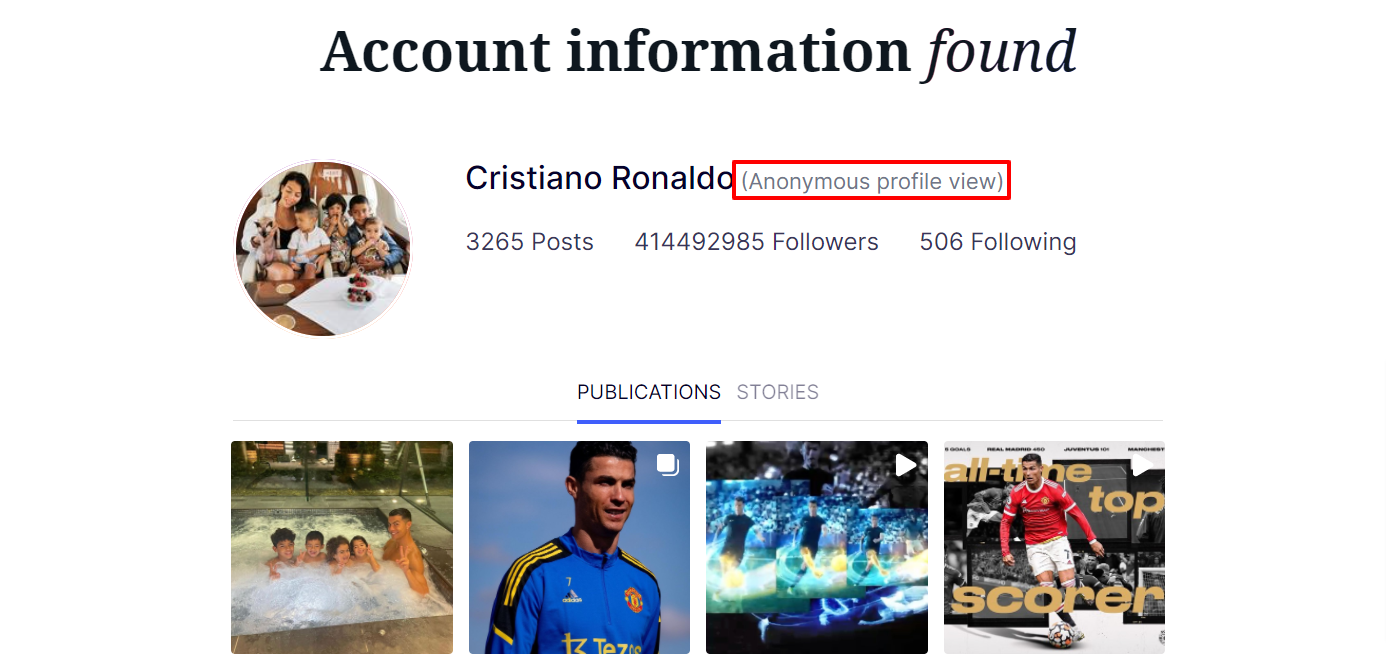 8. Using Glassagram's free trial, you can also download their Instagram stories and posts (both video and image form).
Is the Free Version of Glassagram Good Enough?
Glassagram's basic plan is suitable for downloading Instagram stories and posts of public accounts. However, it doesn't allow viewing private accounts and their direct messages.
The features like visiting a private Instagram profile, tracking direct conversations, and monitoring Instagram by installing the app on the target smartphone are limited to the premium version of Glassagram.
However, starting with a free trial is always a good idea. It gives you an overview of the app's functionality, and if you like the free version, you can upgrade to a paid subscription.
How do you install Glassagram on the target phone and start monitoring their Instagram activities? Let's find out.
How to Install Glassagram in 6 Steps
Follow the steps below to install and set up Glassagram on the target device.
Part 1: Sign up for Glassagram
1. Visit Glassagram's official website and click Try Now.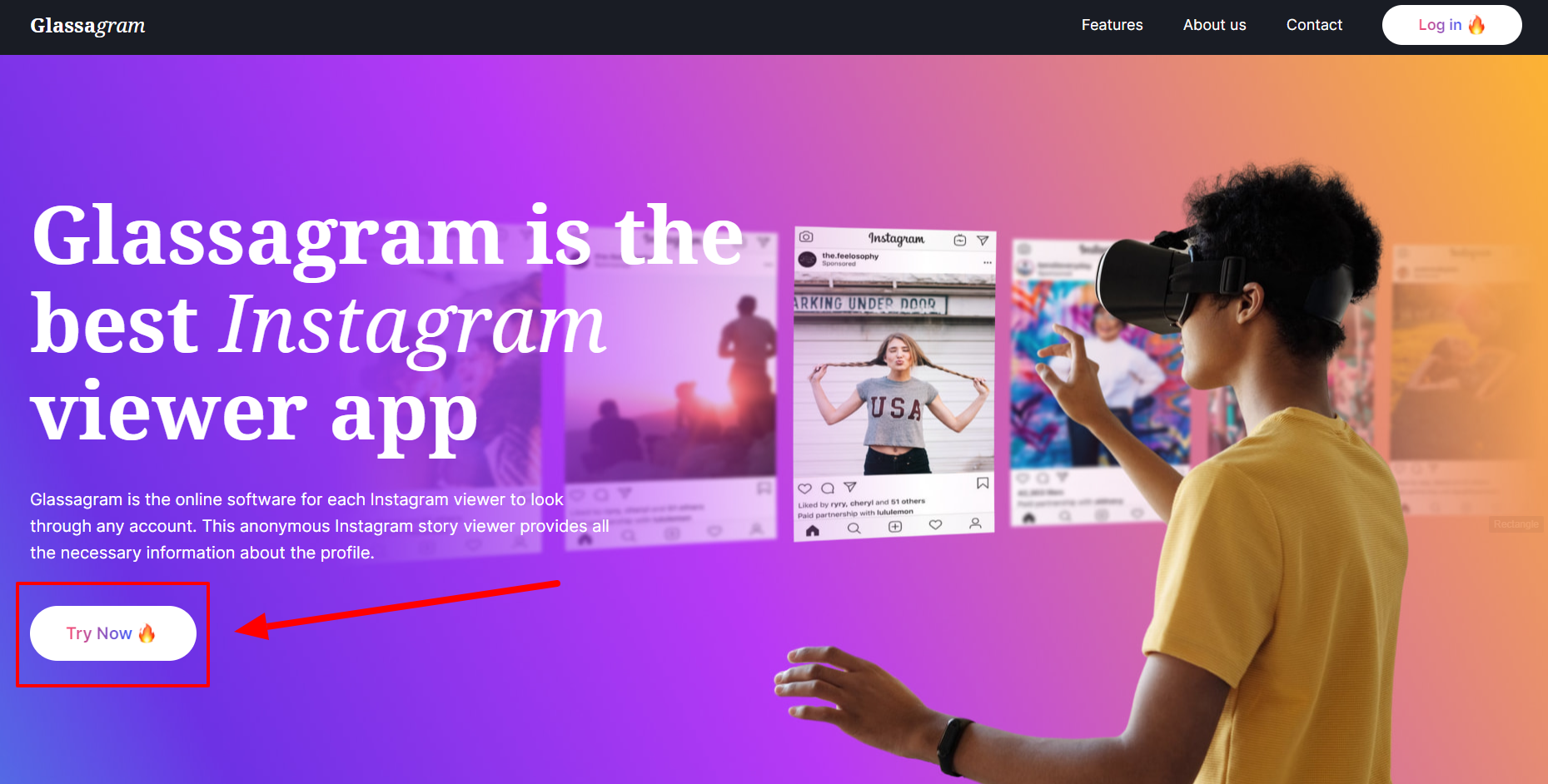 2. Enter your email address to create an account.
Part 2: Pick a plan & Sign in.
1. Choose a suitable plan for Glassagram.
2. Pay for the plan.
3. View the payment confirmation email and use the provided credentials to sign into Glassagram.
Part 3: Install Glassagram on the target device.
1. Get access to the target Android phone.
2. Install Glassagram's app on it, according to the instructions provided. The installation wizard makes it easy for you to incorporate Glassagram on the target phone.
3. Now, open the app and complete the configuration.
Part 4: Start monitoring.
Once you've configured Glassagram on the target Android phone, it's time to log in to your Glassagram dashboard and start tracking their private account. That said, let's explore Glassagram's dashboard.
Glassagram's Instagram Story Viewer Dashboard
Glassagram offers a simple and decluttering dashboard for Instagram app tracking. On the homepage of the dashboard, you'll see the device information like:
Battery percentage
Device name
Android version
Timezone, etc.
To access private Instagram profiles anonymously, click the Check button above social on the left sidebar of the Glassagram dashboard.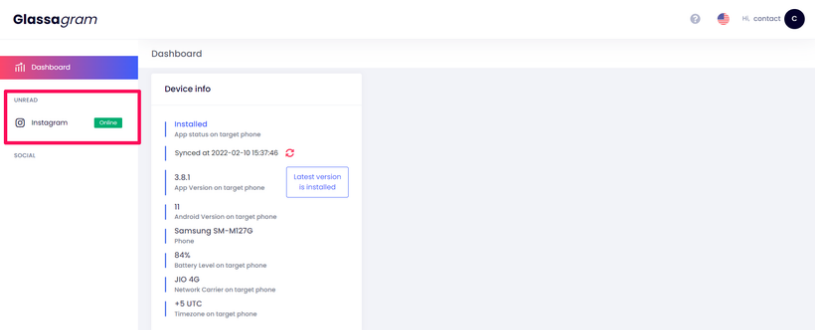 It notifies you whenever the target person opens their Instagram account. You can use this section of the dashboard to look through their private profile, download stories, and track direct messages.
The best part is that Glassagram syncs the latest information of the target Instagram account with your Glassagram account within a few seconds.
That said, let's take a closer look at Glassagram's features.
Glassagram App Features
The premium plan of Glassagram is equipped with a lot of monitoring features.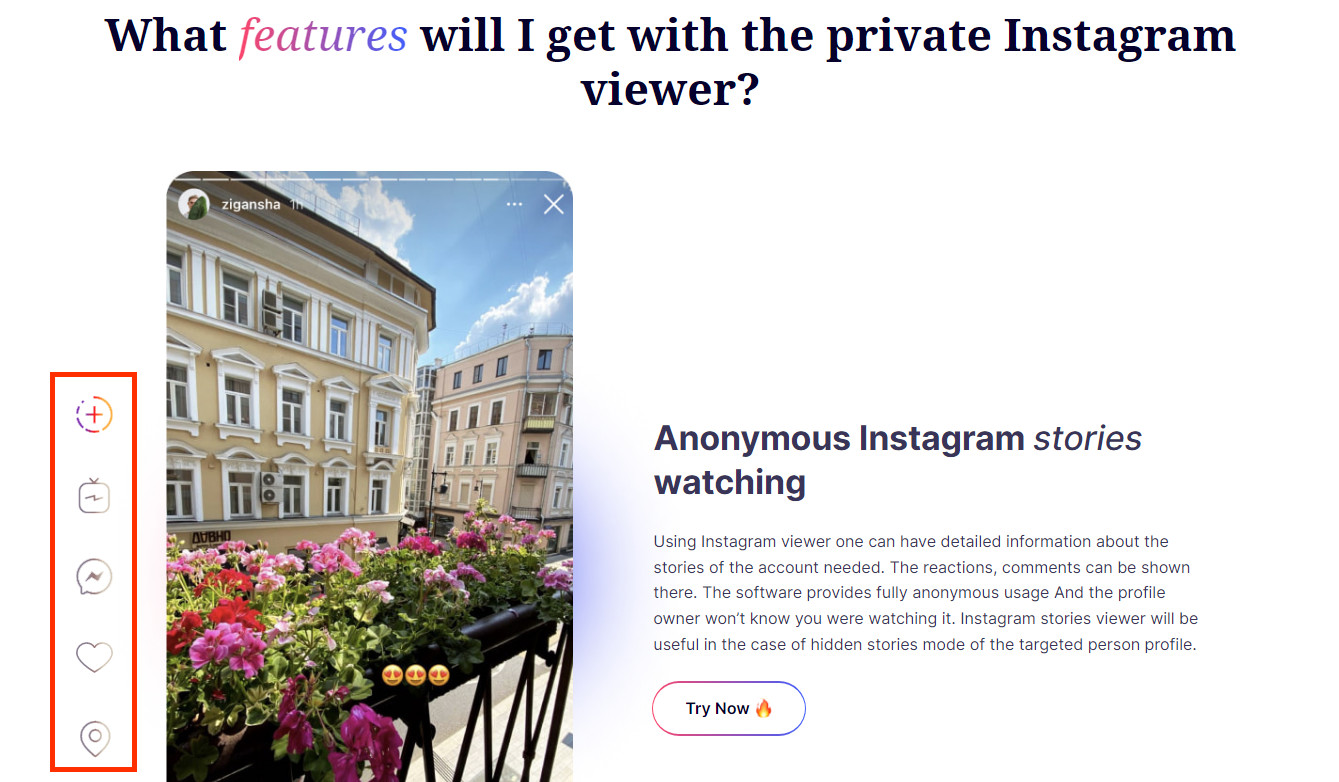 What's interesting about Glassagram is, it tracks most activities of the target Instagram account by capturing screenshots. The app is set to capture screenshots of the target device at regular intervals. In my experience, the app was accurate and it doesn't miss a single Instagram screen.
You can use these screenshots to view the stories, videos, and posts of the target Instagram account. Moreover, you can also track the likes and Instagram location of the target user.
Moreover, Glassagram updates data on your Glassagram account frequently so you always get to access up-to-date information.
With that said, here's a detailed overview of the different Glassagram features:
1. Instagram Story Viewer & Downloader
Story viewing is the core feature of Glassagram. Normally, if you view someone's story through your account, the target person knows and can easily find out who viewed their Instagram story. However, if you view stores of a private Instagram account using Glassagram, the target user wouldn't know.
Furthermore, Glassagram also lets you download stories of Instagram profiles right on your device, anonymously. Other than that, you can also monitor the stories viewed by the targeted private Instagram account, with the help of screenshots.
2. Video, Reels, & Posts Viewer
Glassagram keeps track of all the videos, Reels, and posts visited by the target Instagram profile.
This feature tends to be effective for parents willing to keep their kids away from adult content on the internet. Using Glassagram, parents can monitor their kids' videos and reel history to determine what kind of content they consume.
3. Instagram DM Tracker
The direct message tracker of Glassagram is effective for parental control as well as spouse monitoring. Using it, people can spy on their partners' private messages on Instagram and find out if they're cheating on them. Similarly, parents can use Glassagram to find out who their kids talk to and whether it's safe for them.
4. Instagram Like Viewer
Glassagram lets you find out about anyone's interests on Instagram by seeing what type of content they follow and like. Whether you're looking to keep an eye on your partner or keep your kid away from inappropriate content online, the Like Viewer of Glassagram might come in handy.
5. Location Tracker
It's not uncommon for Instagram profiles to post with a location embedded with it. In fact, most creators let their GPS coordinates at the time of posting remain visible.
So, if you could track someone's Instagram posts only, you could keep an eye on their location. It becomes possible using Glassagram. However, the feature would only be effective if the target user regularly posts on Instagram with the location turned on.
Glassagram Pricing & Plans
Glassagram offers both free and paid packages depending upon your requirements.
The free plan allows you to view a public Instagram account's stories anonymously as well as download them.
Whereas the paid package is the real deal for most users. It offers the following main features:
Monitor an Instagram private account
Track videos & reels
Look through DM conversations
Track their location
View stories
That said, the premium plan offers different subscription terms – you can either sign up for a month-to-month plan or a 1-year package. Here are the pricing details:
1-month subscription – $59.99/mo
1-year subscription – $14.99/mo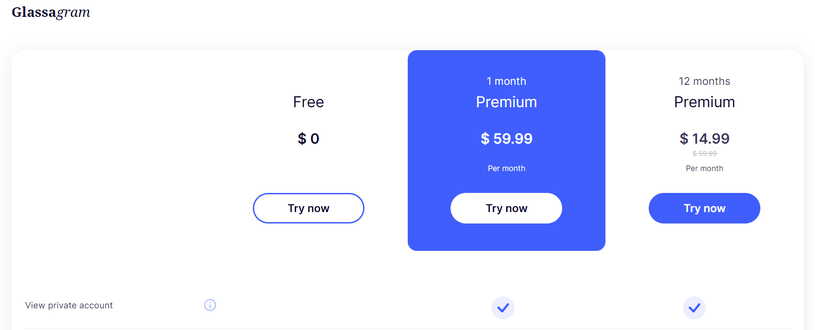 As you see, the long-term plan comes with a discount.
Customer Support
We tested Glassagram's customer support and found it effective. We got connected to the support agent within a minute or two and they helped us resolve our issue pretty quick. In our experience, Glassagram's customer support is knowledgeable, friendly, and quick.
To connect to Glassagram's customer support, click the chat support panel on the bottom right corner. It'll require you to input your name, email, and write down your issue. Once you're done, an available support agent will get back to you quickly.
Does Glassagram App Cause Any Harm To The Target Phone?
Glassagram doesn't cause any harm to the target smartphone. Unlike some other spying apps, it doesn't steal users' data. However, it causes the battery of target phone to drain faster than usual. However, there's not a significant difference between battery backup before and after app's installation.
Other than that, Glassagram is optimized for minimum hardware resources usage. Thus, it doesn't lead to overheating or performance fluctuations.
Are Instagram Viewer Apps Real?
Instagram viewer apps like Glassagram are real. Speaking of Glassagram's anonymous Instagram tracker, it lets you monitor private accounts, their stories, their posts, and their private messages. Furthermore, it also lets you track the posts liked by the target account.
Is Glassagram Free?
Glassagram offers a free version that lets you track any public Instagram profile anonymously. However, it lacks some tracking features like monitoring a private account, Instagram story viewers, and viewing follow posts. For that, you'll need to get a premium subscription to Glassagram's Instagram profile viewer.
Is Glassagram Detectable?
Glassagram is undetectable. When you install it on the target phone, it binds its files with the Android's OS files. This way, the device itself and other spy tracker apps cannot detect Glassagram. The user won't find Glassagram in their phone app list either.
Can You Track Private Instagram Account With Glassagram?
Glassagram lets you monitor a private Instagram profile effortlessly. You can also view the account's private stories, posts, and direct conversations. Other than that, Glassagram lets you track which posts were liked by that private Instagram profile.
Why is Glassagram Better Than Other Instagram Story Viewers?
We've tested various Instagram tracking apps over time and found that Glassagram has some standout values.
Glassagram cares about its customers and brings out regular updates to fix bugs and improve functionality. Glassagram regularly brings out uodates and fixed bugs to improve functionality.
It offers effective customer support that's knowledgeable, friendly, and available 24/7.
Cheap pricing is another key benefit of Glassagram. With the 1-year subscription, you can enjoy amazing discounts.
Glassagram is optimized for hidden Instagram tracking. So, the target user doesn't know their Instagram is being monitored.
Is Glassagram Worth the Price?
Considering the advanced private profile viewing features, Glassagram is definitely worth the price. If you opt for a yearly subscription, you can enjoy an even better price than the month-to-month plan.
Final Verdict
We thoroughly tested Glassagram to determine its authenticity, functionality, and accuracy. After testing its premium version, we've found it to be one of the best Instagram anonymous browsing apps on the internet.
Using Glassagram, you can easily view someone's private stories, posts, and reels anonymously.
However, you should note that Glassagram's free and premium plans are totally different. With the free plan, you can access Glassagram's online dashboard where you can only monitor a "public" profile anonymously.
To track a private profile and even its direct messages using captured screenshots, the premium plan of Glassagram is the way to go. It lets you install a program on the target phone and connect that to your online Glassagram dashboard.
If you're looking to monitor the private account of your partner or kid, Glassagram's paid subscription is worth the price. However, starting with the free plan is always a good choice. Click here to sign up at Glassagram.