Spyrix Review: Should You Buy This Keylogger?
What if we told you that you could monitor everything your partner types on their computer, by just installing an app on their device within minutes? Spyrix has made it possible, with its powerful keylogger that is available for Windows as well as Mac.
However, is Spyrix your best bet for keyloggers? What does its installation look like? And, is Spyrix secure enough to install on your partner's computer without worrying about data leakage?
In this detailed Spyrix review, We'll take you through different aspects of Spyrix, from its installation and functionality to its dashboard and pricing. We'll also explore how effective its free version is.
By the end of this review, you'll know exactly whether to choose Spyrix to monitor your partner or look for an alternative. That said, let's get started.
What is Spyrix?
Spyrix is a secret phone tracker and a keylogger program for Windows and macOS. It also offers premium versions that unlock many additional computer tracking features. The premium features may include app activity monitoring, live screen viewing, and other advanced features.
Other than that, Spyrix has partnered up with mSpy (a mobile phone spy app) to serve the customers who want to monitor a smartphone – be it an iPhone or Android.
How Does It Work?
You can download its free version right away and install it on your partner's computer or your kid's (for parental control). Once you've installed and activated Spyrix, it'll record all the keystrokes the target user types on their device. You can access those key logs in real-time, through the app's online dashboard.
Similarly, if you get a premium package, you'll be able to monitor more activities performed on the target computer, through your dashboard.
Spyrix Compatibility
Spyrix keylogger supports Windows and Mac computers. It offers a free version for Windows, with premium plans available as well. For Mac computers, only a paid version of the app is available.
Here are the supported versions of the Spyrix personal monitor:
Windows – Win 10, Win 8, Win7 x32, Win7 x64, WinVista x64, WinXP
Mac – OS X 10.11 and above
Note: If you want to monitor a smartphone instead of a computer, consider mSpy monitoring software. Read our mSpy review here, which is one of the best iPhone spy apps in the market.
Let's dive into the features of Spyrix to see what it has to offer.
Spyrix Free Keylogger for Windows: Our Review & Its Features
As mentioned, the free version of Spyrix is only available for Windows computers. We ended up installing the free program on our Windows computer for detailed testing of Spyrix's free version.
After completing the installation & activating the tool, we opened Spyrix personal monitor's dashboard on another device. The dashboard is versatile and offers a lot of options – from keylogging and sound recording to webcam recording and messaging apps. However, the free version only activates limited features.
We started off by testing the keystroke logging feature of Spyrix. Though it's a free program, Spyrix performed very well in terms of recording all the keystrokes accurately.
An interesting part is the quick data sync which updates your dashboard with new information every other minute. However, quick data uploading requires a stable internet connection across the target computer and your device.
The Keyboard Events section of Spyrix breaks down the following information:
Timestamps of key logs.
The description & title of the program opened during the typing.
The filen ame of the program opened.
The key logs.
What's exciting about Spyrix is that it also breaks down the keys used other than the alphabets, like Enter and Backspace. So, whether the computer user typed a message on Skype or saved a note, you'll know what exactly it was about.
Compared to the other freeware programs we test every now and then, Spyrix surpassed our expectations by not annoying us with ads or upsells. Plus, the accurate keystrokes logging makes it a fit for parental control, employee monitoring, or spouse tracking.
With that said, here is our overview of some other free features of Spyrix:
Screenshots
Spyrix personal monitor lets you schedule screenshot capturing on the target computer. It captures screenshots from the target device at regular intervals and makes sure you don't miss out on any important information regarding your partner.
Though the free version has some limitations regarding the customization of the time intervals between screenshots and the quality of screenshots, it's still worth it.
You can access the screenshot feature by selecting the ScreenShots section of the online dashboard. The Spyrix software will break down a list of screenshots with timestamps for easy navigation.
You can double-click on any screenshot to make it larger. Like the keylogger, the screenshot feature also breaks down the description/title of the program or website that was open while taking a screenshot.
Clipboard Value
Do you want to monitor the copied passwords, emojis, messages, and other copied texts of your partner? If yes, Spyrix's clipboard feature might come in handy. You can view all the copied texts on your partner's computer using it.
The clipboard value feature of Spyrix is accurate just as the keylogger.
Program Activity
The program activity feature of Spyrix is another interesting feature we came across. It lets you monitor all the programs or websites that the computer user opened during a session.
If you're a parent, you can use this feature for parental control to ensure your kid doesn't play games or browse through the internet more than the time permitted.
Event Log
Navigating through different features of Spyrix like Keylogs, clipboard, and program activity one by one can be time-consuming and hectic.
That's where the Event Log feature comes in. It simply breaks down all the recent events recorded by Spyrix on one page. So, you don't have to navigate through different features each time you log into your dashboard.
User Activity
The User Activity feature best suits parents looking for parental control software for their kids. It lists down the screen time, the start & end, and other important information regarding the activity of the computer user. This way, parents can estimate how much time their kid spends on their computer screen each day.
Other than that, this feature also comes in handy for employee monitoring as employers can monitor how much time their employees spend working, and whether or not they're maximizing their productivity.
Should I Go For a Premium Spyrix Subscription?
Let's break it down: no one wants to invest in a premium subscription unless it's packed with value.
So, what about Spyrix's paid version? Do you really need it?
Well, the free Spyrix software is enough to monitor your personal computer. However, if you want to monitor your employees, your kid, or your partner, a hidden monitoring tool should be your preference.
Spyrix does not offer a stealth mode with the free version. So, when you install the free version of Spyrix on a computer, the computer user might easily find it through the task manager.
So if you're wondering how to remove Spyrix keylogger from the task manager or hide it on the target device, you'll need to go for the paid version. This way your partner won't know there's monitoring software on their computer. Aside from the stealth mode, Spyrix's paid version also throws in premium features like:
Browser history monitoring,
Webcam recordings,
Sound recording,
Social media monitoring, etc.
Here is an overview of the paid Spyrix features:
Message App Activities
The paid version of Spyrix lets you monitor the sent & received messages of your partner across different messaging platforms.
These include Facebook messenger, Whatsapp messages, Viber, Skype, and many more. Whenever the target user accesses a supported messaging app, Spyrix records their activity and uploads that information to your online dashboard.
So, you view your partner's chats on their computer right from your dashboard.
Webcam Screenshots
Spyrix's premium plan makes it possible to capture webcam screenshots from the computer of the target user. So, you can monitor the screenshots of their computer's surroundings any time you want. The program also lets you configure specified intervals of capturing webcam screenshots.
Sound Recorded Data
The sound monitoring feature of Spyrix lets you record the sound of your partner's computer surroundings. You can use the recordings to determine what's going on around their device. You can also save the data collected on your smartphone or computer.
Social Apps Tracking
Using the social activity feature of Spyrix, you can monitor your partner's social computer activities across different platforms. The app has a wide range of supported social media apps, including Facebook, Twitter, Instagram monitoring, and many more.
Live Viewing
Live viewing is yet another advanced feature of Spyrix, allowing you to watch the computer screen of your partner in live mode. However, the live viewing feature only works fine when both your device and the target computer are connected to a stable internet connection.
You can use the live mode to monitor your partner's computer activities in real-time but it quickly drains the battery of the target laptop. Plus, there's a sudden increase in internet usage too.
URL Monitoring
Spyrix is also a URL monitoring software that you can use to view all the visited web addresses on the target device. Though it doesn't allow blocking unwanted websites, you can look through the websites visited and even save that information.
With that out of the way, here's how to install monitoring software of Spyrix. Even if you're not experienced with installing computer monitoring tools, you'll feel comfortable with Spyrix.
How To Install Spyrix?
Before you install Spyrix, you'll have to make some changes to the target computer to ensure a smooth installation.
Getting the Target Computer Ready for Spyrix Installation
Disabling any antivirus or anti-malware program on the target computer is important for Spyrix installation. If you install the program without deactivating the antivirus software, it may block Spyrix as a harmful app.
To check the target user is using third-party anti-virus software, click the Search Bar and open up Control Panel.
In the control panel, click Programs and Features and look out for anti-malware software. Let's say the target computer contains Avast (an antivirus service). You have to open it and temporarily disable it to proceed with Spyrix installation.
If you don't find anti-malware software on the target PC, disable Windows Defender – the default antivirus software of Windows. Here's how to do that:
1) Come back to the Control Panel home screen and select Windows Defender Firewall.
2) Select "Turn Windows Defender on or off" from the left sidebar.
3) Then, turn off Windows Defender for both Private and Public networks.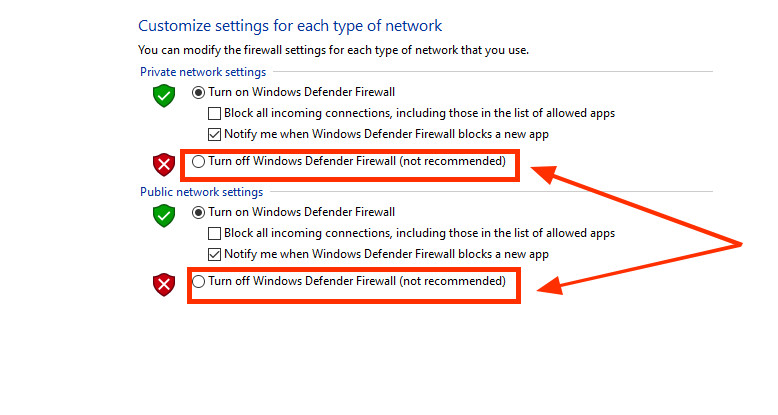 That's it – you can now proceed with Spyrix installation.
How to Install Spyrix and Configure It
Follow the steps below to install Spyrix on the target computer:
1) Visit Spyrix's official website and click Free Download. It should start the Spyrix downloading.
2) Once the downloading completes, open the download location and open Spyrix setup.
3) Input your email address and continue. The email is required for the remote monitoring interface.
4) Then, input your email address once again and create a password.
5) Lastly, accept the license agreement and click Finish.
That's it – the installation is now complete.
Another Setup Wizard will appear, allowing you to configure Spyrix on the target computer. You'll have to input your email ID once again to continue. Then, you'll get to adjust the screenshot quality and choose whether you want to hide the software on the target computer (with paid version only).
Once you've completed the configuration, click Finish.
Adding Spyrix as an Exception
Of course, you want to come across issues along the way when monitoring using Spyrix. To ensure that, make sure to add Spyrix as an exception in Windows Defender. When you do this, Windows Defender will no longer interfere with Spyrix when scanning for viruses & malware on the computer.
Follow the steps below to do that:
1) Open the Windows Security app from the search bar.
2) Click Virus & threat protection from the left sidebar.
3) Select Manage Settings under Virus and threat protection settings.
4) Click Add or remove exclusions under Exclusions.
5) Add Spyrix folder as exclusion.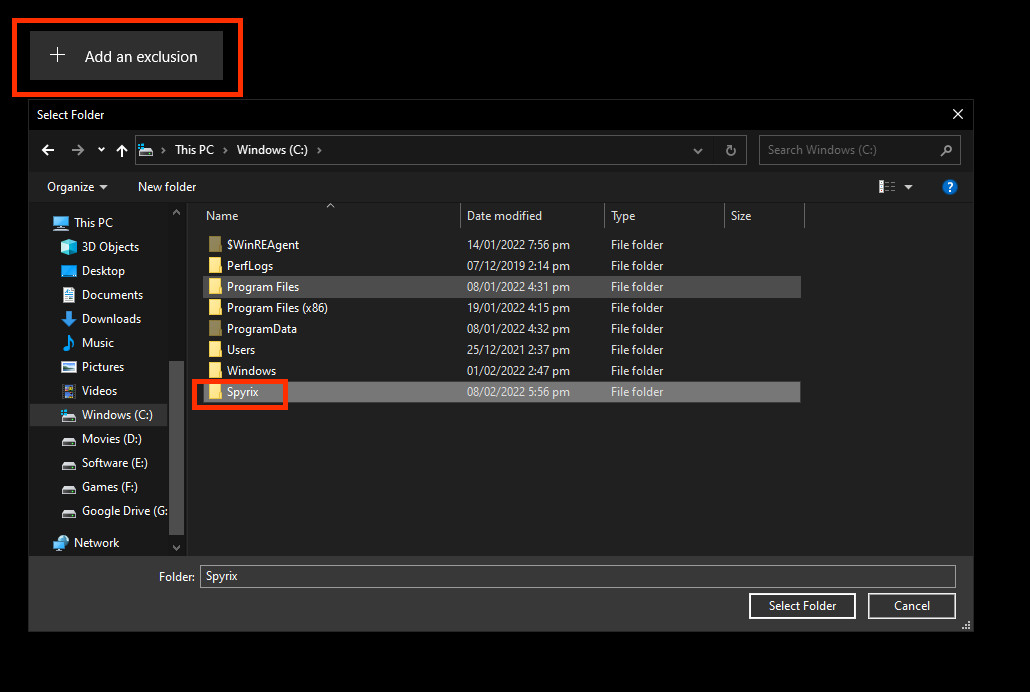 That's it — you're ready to start monitoring with the secure web account of Spyrix.
Monitoring With Spyrix
On the email you entered during installation, you'll receive the instructions to log into the secure web account of Spyrix. Follow those steps to sign in to your online account and you're ready to monitor the key logs and Google searches of your partner.
Spyrix Pricing
As mentioned, Spyrix offers a free version for Windows. But, there's a premium one too. Here is the pricing of paid plans of Spyrix for Windows:
That said, here is what Spyrix costs for Mac devices:
Note: Spyrix doesn't have a free version for Mac.
With that out of the way, here are the answers to some FAQs regarding the Spyrix key logger.
What is Spyrix Used For?
Spyrix is a keylogger app that lets you record keystrokes typed on the target computer. You can view the recorded data from your secure web account. However, installing Spyrix will require physical access to the target computer. If you want a keylogger for Android devices, you should look at the best spy apps for Android.
Is Spyrix Free?
Spyrix offers a free keylogger for Windows devices. You can use it for employee monitoring, parental control, and as a couple tracker. But, the free version comes with limited features. Plus, the free version is not hidden so it may notify users they're being monitored.
Is Spyrix Keylogger Worth It?
Spyrix keylogger is your best bet for monitoring the pressed keys and online chats on the target PC. Though it doesn't allow you to block websites, you can use it to monitor the social messages, pressed keys, and program activity of the target user.
Is There Any Better Alternative To Spyrix Personal Monitor?
Nothing beats Spyrix in terms of functionality, as a free Windows keylogger. However, some alternatives to Spyrix include FlexiSPY, Mobile Tracker Free, and iKeyMonitor.
Is It Illegal To Put A Keylogger On Your Own Computer?
Using a keylogger on your own computer is generally fine. But, you should go through your state laws and federal law to avoid criminal penalties.
What Is The Best Free Keylogger?
The best free keylogger for Windows is definitely Spyrix. From clipboard monitoring to screenshots and program activity, it offers all the features you could expect from a free keystrokes logger. However, you should go through your federal and state laws if you want to use Spyrix to monitor someone else, to avoid monetary and criminal penalties.
How Much is Spyrix?
Spyrix is free for Windows. However, its premium Windows version starts from $59/year per computer. The price jumps if you choose advanced features like screen, webcam, and call recording too.
Final Words
After thoroughly testing and reviewing Spyrix, we recommend its free keylogger to anyone who wants to monitor their personal computer.
But, if you want to track all the activities of your partner or kid, the premium version of Spyrix is recommended for the hidden mode (it ensures the target user doesn't know you're monitoring them). The paid version also unlocks the premium features like live mode of the active window and access to the computer mic.
Anyway, you can get started with the free version of Spyrix right away and upgrade only if you like its functionality. Read our mSpy review if you're looking for smartphone monitoring software too.